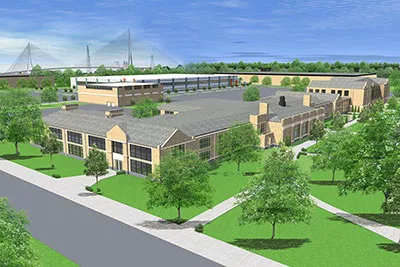 The former Southwestern High School in Detroit will be the site of an expanded manufacturing facility for Sakthi Automotive, an expected $31 million investment that is slated to house 650 employees.
"This project is a prime example of how cooperation between the State, the City, Detroit Public Schools and the private sector can help create jobs and preserve our city's heritage," said Mayor Duggan, in a statement Monday. "Sakthi is making a major commitment to Detroit and is creating employment opportunities for our residents that otherwise would have remained overseas."
Sakthi plans to expand its facility in Southwest Detroit to build out a larger manufacturing campus and training center, the city says. The Michigan Strategic Fund approved $3.5 million in incentives recently to facilitate the project.
The expanded campus will encompass 1.2 million square feet across four buildings, the city says.
The project is expected to create an estimated 220 additional jobs by 2021, the city says in the release. The former General Motors building nearby will also be used as a manufacturing center, and will employ 100 new hires, as well.
Construction is anticipated to start in the coming weeks, with an estimated completion date of late 2017.
Anyone interested in working at Sakthi, which opened its Fort Street facility in 2012, is asked to email
[email protected]