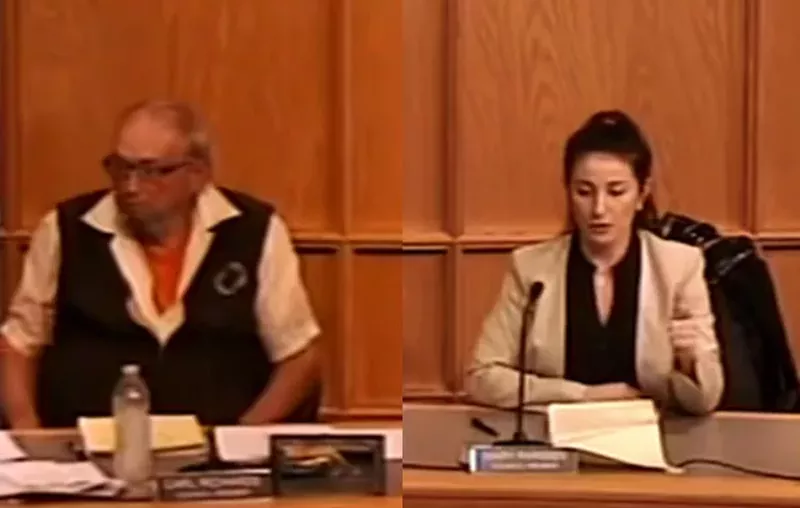 South Lyon councilman Carl Richards has once again found himself in hot water and is now no longer allowed to sit at the same table as a female council member following harassment allegations.

During a meeting on Monday, councilwoman Mary Parisien requested an investigation into Richards behavior and shared the details of the incident that lead to a one-year personal protection order against her colleague.

"It is important to note that as a public figure I expect individuals to have an opinion about their governing officials," Parisien said during a prepared statement at Monday's meeting. "However, Carl is not just a public citizen, Carl is a colleague who sits at this table alongside me. As such, he is to be held to a higher standard."

Parisien filed a police report on Oct. 31 after she was contacted by a local business owner who claimed that Richards had been in their store and shared details about having peeped inside the windows of Parisien's home. In addition to detailing the interior of her home, Richards also made "a series of grossly inappropriate comments " about her body as well as "discriminatory comments about those in the LGBTQ community" during which the embroiled councilman described Parisien as "a topless dancer at a gay bar." He later admitted that it was a "bad joke."

The PPO limits Richards' participation to council meetings — in other words, official city business. He is barred from sitting with his colleagues and cannot attend any events, city or otherwise, in which Parisien may be in attendance.

"If these allegations are proved to be true, it's incredibly disheartening and really just disgusting," South Lyon Mayor Carl Pelchat told The Oakland Press. "We were told by the county to attempt to make accommodations to have [Richards] sit as far away as possible during city meetings."

This is not the first time Richards has found himself under fire for inappropriate behavior. In February, city council applicant Joyce Clohosey filed a discrimination complaint against Richards after he asked her if she had recently given birth during her candidacy interview. He was ordered to attend diversity training to which he compiled just a month before harassing Parisien.

City council granted Parisien's request for an investigation by the city's Board of Ethics with a 4-3 vote. The board will meet on Dec. 6 to discuss their recommendation on how to move forward regarding the matter. The next city council meeting will convene on Dec. 10.

Parisien also added that the Oakland County Sheriff's Department was actively pursuing an investigation into claims against Richards.

You can watch Parisien's address below:


Stay on top of Detroit news and views. Sign up for our weekly issue newsletter delivered each Wednesday.