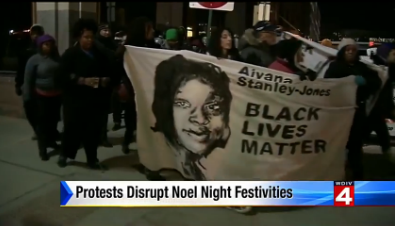 On a relaxed Sunday afternoon, when we have the leisure to explore our dysfunctional region in all its glory, we turn to the comments section of the websites of the daily papers. Our Sunday fun was made all the more glorious by the responses to Noel Night's protests, which raised the issues of police killings, especially of unarmed black people.
The protesters make a fair point. When people feel strongly enough about an issue, they protest. If they feel really strongly, they may engage in a bit of civil disobedience, which might involve refusing orders from a cop and getting hauled into a paddy wagon. As far as we know, none of that happened in Detroit last night. News reports described protests that did not interfere much with the holiday cheer.
What's more, it's an important issue that's worth discussing. Why are so many unarmed people being shot by police? Might it have something to do with the way
police are too often not held accountable
the same way we would be for opening fire on our fellow, unarmed man? It's an interesting thing to consider in this time of goodwill toward mankind.
Or, apparently not. In the dysfunction junction known as metro Detroit, a simple protest about an important, literally life-or-death issue is a reason for suburban residents to engage in a little protest of their own — boycotting the city.
In comments on
an article in The Detroit News
, one poster wrote: "A demonstration like that is a great way to keep people from coming to Detroit. Great job folks." When another commenter disagreed, he wrote: "Do you honestly think that the city could survive without the money that flows in from the suburbs?" Another commenter identified as a resident of Grosse Pointe declared: "Just cancelled plans on taking my daughter and friends. Don't feed into this crap. Would have spent $100 or so." The comment earned 19 likes.
The reaction was little better at the Free Press, where comments on
an article
were reached similar heights of paranoia. One commenter blurted, "Another reason not to go into Detroit."
The whole idea of white suburbanites boycotting Detroit isn't a new one. Of course, as historians such as Thomas Sugrue have pointed out, it began with white suburbanites leaving Detroit and taking their capital, institutions, businesses, and houses of worship with them, sometimes even their long-buried ancestors. That started in the 1950s, as freeways and subdivisions blossomed outside Detroit, driven by generous subsidies that overwhelmingly benefitted whites.
And the story of this migration is intertwined with the story of policing in Detroit. As sociologists and historians have pointed out, Detroit's police force was, until the mid-1970s, overwhelmingly white, bigoted, head-cracking institution that often shot first and asked questions later. For many white Detroiters, the last straw was not the election of Coleman Young so much as his reforms of the police department into a force that was more representative, in class, race, and even gender, than it had ever been. The heavy-handed, unequal policing that touched off 1967's 12th Street riot became a thing of the past, and many whites who endorsed such policing disasters as STRESS — an early '70s DPD decoy unit accused of killing 22 black residents and arresting hundreds more without cause in just 30 months — picked up their metaphorical marbles and moved to the lily-white suburbs.
So it's interesting to see this generations-old quarrel play out again in our daily papers' comments sections. For some of the older white folks, trigger-happy white police were never a problem, and those who'd rein them in were among the reasons they left the city in the first place. Small wonder they'd lord the money they might spend in the city over those protesting against such an important issue.