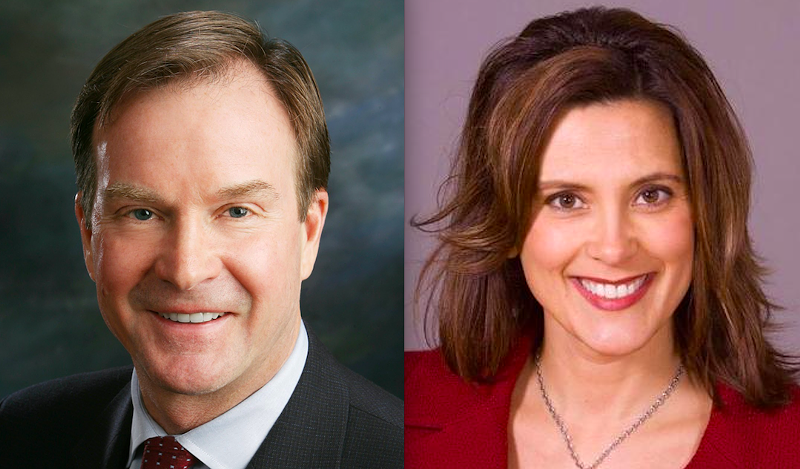 Lately, it's been tough for
Republican
nominee for governor Bill Schuette.
As Michigan's attorney general, it must have been humiliating for Schuette when the state's largest police organization
threw its support
behind his gubernatorial rival, Democrat Gretchen Whitmer. Even Republican Gov. Rick Snyder
has notably avoided endorsing him
. And to make matters worse, earlier this month his running mate's house was destroyed in
a crème brûlée accident gone horribly awry
.
Now, a coterie of prominent Republicans
have
abandoned Schuette as well, even going as far as to form a group called "Republicans and Independents for Whitmer."
Many of its co-chairs served for Michigan's previous Republican governors: Jim Haveman served as director of the Michigan Department of Community Health under Snyder and John Engler, Richard McLellan served as a transition director for Engler, and Vivian Carpenter was deputy state treasurer under Bill Milliken. The group also includes co-chair Joe Schwarz, a former State Rep from Battle Creek.
"Now more than ever, Michigan needs a governor who knows how to put partisanship aside to get things done," Haveman says in a statement. "As Director of DCH under Governor Snyder, I worked across the aisle with Sen. Whitmer when she was putting the votes together to pass Medicaid expansion, and because of the bipartisan work we did, 680,000 Michiganders now have access to health care. That's exactly the kind of leadership our state needs right now to keep building on Michigan's economic comeback."
"I'm a lifelong Republican, and I'm supporting Gretchen Whitmer this year because she's the best person for the job," McLellan said. "While the Attorney General has disingenuously argued we can pay for new roads without any new revenue, this is a serious issue and conservative voters like me understand that it will take money to fix them. Meanwhile, Gretchen Whitmer has offered pragmatic solutions to attract businesses to Michigan by rebuilding our infrastructure the right way and clean up our drinking water, and that's a big part of why I'm putting partisanship aside this year and working to send Gretchen to the governor's office."
Some Republicans have dismissed the group. "This coalition is not about passion for the candidacy of Gretchen Whitmer," Michigan Republican Party Chair Ron Weiser said in a statement. "This is anger at Schuette for stepping up, leading, and making tough decisions even when they are politically difficult."
But Haveman told
The Detroit News
that he expects other Republicans to join, saying, "It'll be an exciting group that joins this and says we're willing to put our names out and are stepping up on this."
Oh well. At least Schuette
has Trump
's endorsement.
Stay on top of Detroit news and views. Sign up for our weekly issue newsletter delivered each Wednesday.