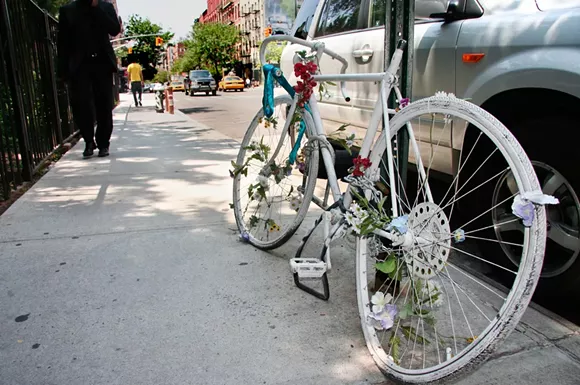 Imagine a not-too-unlikely scenario. On a Saturday afternoon, somebody apparently fires a loaded pistol into the air. The chief evidence of this? One of the bullets falls and strikes a 4-year-old toddler in the head, killing her.
Now imagine that the tragedy is written up in a news article — but that the article is primarily about how to protect your toddler from falling bullets. It might include quotes from experts warning you that leaving toddlers outside during peak time for backyard barbecues can increase the risk of being hit by bullets. It might lecture parents who don't purchase special headgear to protect delicate young skulls from rounds as they fall back to earth.
Now imagine reading through the whole article and not finding one single condemnation of firing bullets into the sky!
OK, that not-too-unlikely scenario got unreal pretty fast, didn't it? Why on earth would any responsible news outlet look at a tragedy involving criminal negligence and use it as an occasion to lecture potential victims?
As some people are quick to point out this week, this sort of thing happens all too often — when cyclists are killed by motorists.
We're given an occasion to examine that phenomenon this week, after a motorist drove his pickup truck into a group of cyclists on Tuesday evening in Kalamazoo, killing five and injuring four.
For a half-hour before the collision, callers had told police they were witnessing a blue Chevy pickup "driving erratically," and police were out looking for the vehicle when it came roaring up behind the cyclists and struck them before careening off the road. Five cyclists were pronounced dead at the scene.
How did Michigan media respond to the deadliest motorist-cyclist collision in memory?
Some outlets did pretty well.
MLive released a well-reported story
, consistent in style and tone with a crime story in its early days.
Other media outlets also did pretty well. But at least one person at the Streetsblog Network on Twitter singled out
a bit of news coverage by WZZM-TV
.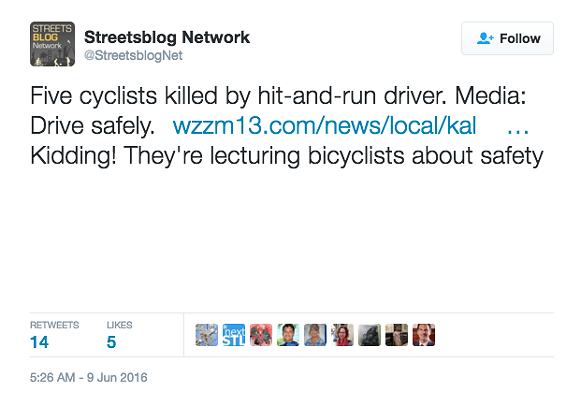 That story was all about reminding cyclists to follow the rules of the road — even though nobody has said the cyclists who died were breaking any rules at all. In fact, the interview subject says as much, and offers a summary view that should have been the point of the article: "Nothing could have stopped that last night, other than stopping the person before it happened."
In fact, the entire article, "Kalamazoo tragedy a reminder: practice bike safety," should probably have been titled, "Kalamazoo tragedy a reminder: Don't run over cyclists."
We also saw a similar tweet from local cyclist group Detroit Greenways. This tweet took issue with
some of the coverage by our own Detroit Free Press
.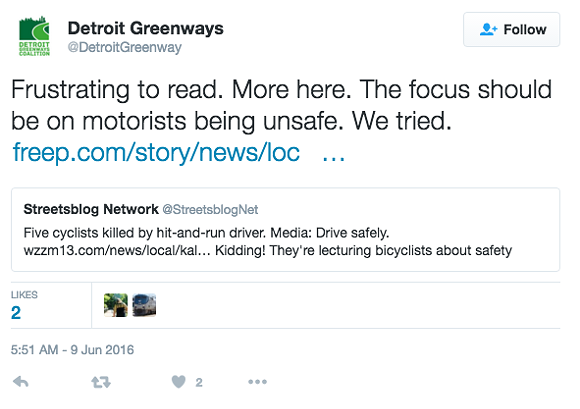 That piece waits a decorous five paragraphs before launching into rookie advice that probably wouldn't have saved a single one of the dead and injured in Kalamazoo. The article interviews one cyclist group whose initial thoughts included several that didn't concern the erratically driving motorist who ran them down, such as "Did they have on helmets? Was everyone to the right, like we're supposed to be?" The interview subject even adds "Be respectful to cars and they'll be respectful to you." (All evidence in Kalamazoo to the contrary.)
In fact, one of the people interviewed in the article offers advice many veteran cyclists disagree with: "riding as close to the shoulder as possible." Not only is that typically where the worst pavement conditions are — it's not state law to ride there. Disseminating this kind of bad advice only helps reinforce the idea that bikes are guests on the road and need stay out of the way of the "real traffic."
After seeing these tweets and reading these articles, the thrust of these stories kind of got our goat too. So we asked our old pal, Todd Scott, director of Detroit Greenways, if he could offer a little something to take away other than chagrin. He was happy to oblige.
"It's much easier for everyone, including bicyclists themselves, to put the safety burden on the most vulnerable road users when the opposite should be done," Scott said in an email. "The burden should be on motorists to share the road, drive safe, sober and be prudent. It should also be on road agencies to design roads that provide good traffic flow at safer speeds while promoting shifts to safer transportation modes. After all, motorist speed is the main determinant in whether bicyclists or pedestrian survives a crash or not." (For confirmation of this factoid, and the policy choices that play into it,
click here
.)
We'll leave Scott the last word on this one: "It's time to get serious about road safety and look at projects such as
Vision Zero
for guidance on how to get there. Traffic deaths and injuries are preventable, but we're going to continue to have less safe roads in Michigan until we put a greater value human life and health."