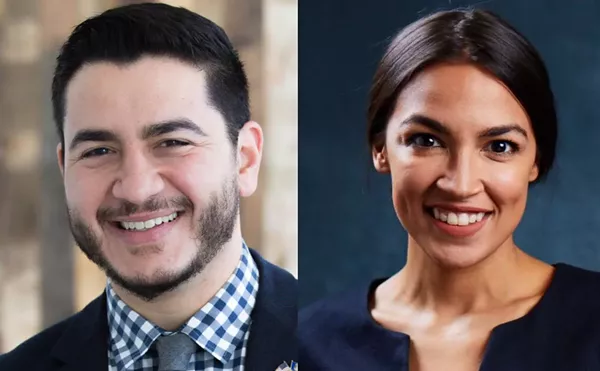 Alexandria Ocasio-Cortez — the New York socialist who recently pulled off a stunning primary upset against a long-serving, Wall Street-backed congressman — is coming to Michigan in hopes of giving gubernatorial candidate Abdul El-Sayed a boost.
Ocasio-Cortez will join El-Sayed on campaign stops in Detroit, Flint, Ypsilanti, and Grand Rapids on July 28 and July 29. According to the
Washington Post
, the series of events represent the socialist firebrand's
"most extensive campaign plans yet"
as she stumps for progressive Democrats in primary races against establishment candidates around the country.
"Right now we are in a critically important juncture in our country," Ocasio-Cortez says in a statement. "Abdul inspires me. His commitment inspires me, his background inspires me, his work inspires me, and we have to have each other's backs if we're going to change this country."
Ocasio-Cortez ran on a bold, progressive platform to defeat Rep. Joe Crowley in the Democratic primary for New York's 14th Congressional District last month, after polls showed her
down by more than 30 points
. El-Sayed, meanwhile, was last shown to be
more than 20 points behind Gretchen Whitmer
in a three-way race for Michigan's Democrat gubernatorial primary. El-Sayed was neck and neck with Shri Thanedar, the other candidate in the race. Thanedar is running as a progressive but has been labeled by some as a "fauxgressive" following a series of media reports that highlighted
his past support for Republican candidates
and an alleged
meeting with consultants
to determine which party primary he should run in.
El-Sayed is Detroit's former health director. His agenda includes free basic water service for households and the creation of a state-level single-payer health care system that would guarantee all Michiganders coverage free of premiums or co-pays. He's running without corporate PAC contributions.
"Alexandria Ocasio-Cortez proved to us that an authentic message of what government can do to support poor and working people against the dominance of corporations can move our politics," El-Sayed says in a statement. "Bernie [Sanders] showed us how important that message is in Michigan. I look forward to traveling throughout Michigan with Alexandria and learning, listening, and speaking with Michiganders about the Michigan we aim to build together."
El-Sayed's Detroit rally with Ocasio-Cortez will be held Saturday, June 28 at Wayne State University's student center. More information is available
here
.
Stay on top of Detroit news and views. Sign up for our weekly issue newsletter delivered each Wednesday.