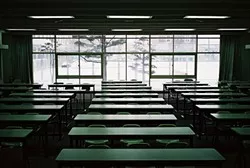 In September, seven Detroit schoolchildren filed suit against Gov. Rick Snyder and Michigan education officials for denying them what their attorneys are arguing is a fundamental U.S. right: the right to literacy.
Last week, attorneys representing Snyder filed a motion to dismiss the suit in U.S. District Court in Detroit, arguing that despite the fact that Detroit's public schools have been under state-appointed emergency management, the state owes the students no such obligation.
"The United States Supreme Court and Michigan courts recognize the importance of literacy. But as important as literacy may be, the United States Supreme Court has unambiguously rejected the claim that public education is a fundamental right under the Constitution," assistant attorney general Timothy J. Haynes writes in the 62-page motion, referring to the 1973 case
San Antonio Independent School District v. Rodriguez
. "Literacy is a component or particular outcome of education, not a right granted to individuals by the Constitution."
The motion also references the 2014 case filed
on behalf of eight of Highland Park students
against its emergency manager-led school district, which was dismissed by the Michigan Court of Appeals with the conclusion that "Michigan's constitution requires only that the Legislature provide for a system of free public schools, leaving the details and delivery of specific educational services to the local school districts."
Snyder's lawyers also argue that many factors that can contribute to illiteracy rest outside of the school district. "While pointing the finger at Defendants, Plaintiffs ignore many other factors that contribute to illiteracy, such as poverty, parental involvement (or lack thereof), medical problems, intellectual limitations, domestic violence, trauma, and other numerous influences," Haynes writes.
Public Counsel, the Los Angeles-based firm that represents the students, says that emergency management has only hindered students in their ability to learn. "Instead of providing students with a meaningful education and literacy, the State simply provides buildings — many in serious disrepair — in which students pass days and then years with no opportunity to learn to read, write, or comprehend,"
the original complaint
reads. Earlier this year,
frustrated DPS teachers took to Twitter
to document the dismal learning conditions of their schools.
It begs the question of what exactly was the end-game of Detroit Public Schools' emergency management. If emergency management was just to make the district's financial bottom line, it has failed spectacularly in that regard —
with the district only sinking further into debt after more than six years of emergency managers
. This year, state lawmakers resorted to a approving $617 million bailout to relieve the district of its crippling debt. The district's current emergency manager, Steven Rhodes, is expected to step down at the end of the year when the newly elected Board of Education is installed.
If the end-game of emergency management is to provide Detroit public school students an adequate education, it has seemingly failed in that regard as well.
Read the full case for dismissal below: