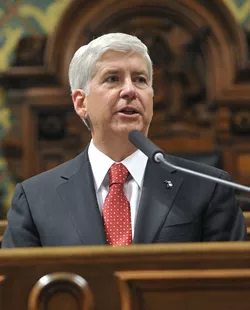 Gov. Rick Snyder signed a pair of bills Wednesday, effectively allowing for political candidates to solicit unlimited contributions for super PACs.
Public Acts 119 and 120 align Michigan's laws with the controversial 2010
Citizens United
Supreme Court ruling, which held that independent political action committees, or super PACs, can take unlimited contributions from corporations, nonprofits, labor unions, and other groups.
"The Supreme Court of the United States ruled on this issue more than seven years ago, and still there has been confusion about how this decision affects Michigan law," Snyder said in a statement. "Under the bills signed into law today, the Department of State finally has clear statutory authority to regulate independent expenditure committees, to mandate registration and reporting of contributions and expenditures, and to investigate and punish entities violating those regulations."
Citizens United
ruled against prohibiting independent expenditures on the grounds of free speech. But critics say the ruling allows for the flow of "dark money" into politics.
Lonnie Scott, executive director of Progress Michigan, was blunt in a statement: "Gov. Snyder rode in to Lansing on the white horse of transparency but will leave cloaked in secrecy, driving a hearse carrying our democracy," he said.
"Today it has been made clear that Gov. Snyder is doing everything he can to cement his legacy as one of the least transparent and most spineless governors Michigan has ever had," the statement continues. "He promised to clean up Michigan's campaign finance laws, but all he has done is soil them further with unlimited amounts corporate cash."
In 2015, Michigan
came in last
a national study ranking states based on transparency and ethics. "If there's somehow a way to go lower on that list, the (Snyder) administration is doing their damnedest to get us there," Scott said. "This is not about free speech — this is about killing Michigan's democracy so that our elections go to the highest bidder."