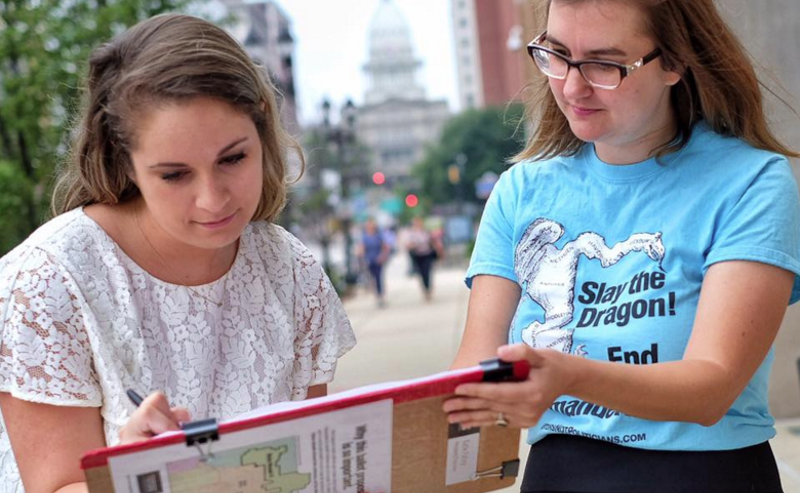 Gov. Rick Snyder has signed a bill that makes citizen ballot initiatives nearly impossible.
The law was among the more controversial floated by the GOP-controlled legislature during the lame duck session, and Democrats and Republicans outside the state capitol urged Snyder to veto it. Though Democrats used citizen-led ballot initiatives to pass progressive legislation in November, Republican groups have used them in the past to pass more conservative citizen-initiated laws.
Among other changes,
HB 6595
mandates that no more than 15 percent of the signatures gathered during a ballot drive could come from any of the state's 14 congressional districts. It will especially limit petition circulators in urban areas because the congressional districts are gerrymandered and far more progressive voters in cities are packed into fewer districts.
Legal experts have argued that the legislation is likely unconstitutional because it takes away a resident's constitutional right to participate in a ballot drive once the 15 percent threshold is met in a congressional district.
"There is probably grounds to challenge as it's severely limiting the constitutional right of citizens to petition their government," state Rep. Yousef Rabhi, D-Ann Arbor, previously told
Metro Times
.
The legislation came after the success in 2018 of five citizen-led ballot initiative ballots. That included Proposal 1, marijuana decriminalization; Proposal 2, a voting access expansion; and Proposal 3 independent redistricting commission to address gerrymandering, or rigged elections. Michigan residents also signed around 400,000 signatures each for initiatives to raise the minimum wage to $12 per hour and mandate paid sick time. But Republicans were able to keep those off the November ballot by making those law, then voted to gut them in lame duck.
Stay on top of Detroit news and views. Sign up for our weekly issue newsletter delivered each Wednesday.