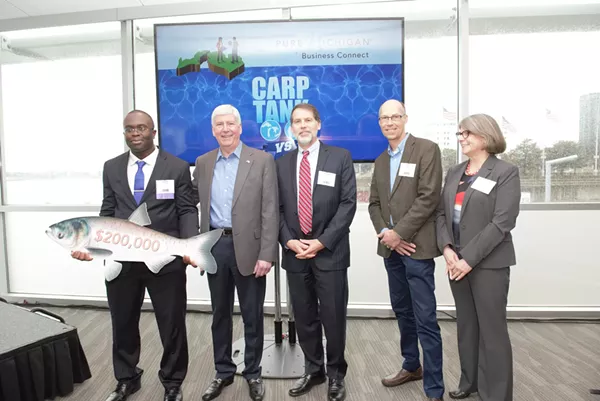 A Boston, Mass.-based scientist won $200,000 in Gov. Rick Snyder's "Carp Tank" competition to come up with new ways to thwart the Great Lakes'
likely imminent Asian carp invasion.
Carp Tank (like
Shark Tank
... get it?) was the culmination of Snyder's Great Lakes Invasive Carp Challenge, which the governor announced in February 2017. There was no reality TV show, but there was a presentation in front of a panel of judges and Asian carp researchers held today at the Port Authority in Detroit.
Edem Tsikata, a software consultant at Ab Initio Software in Boston, received the contest's top award — a $200,000 prize, along with a fish-shaped trophy.
According to a press release
, Tsikata's "Cavitation Barrier to Deter Asian Carp" envisions "a row of specially designed propellers to generate a wall of cavitation bubbles that implode and emit high-speed jets of water. The painful sensation of the bubbles along with the noise of the propellers would repel fish and prevent their passage beyond the bubble barrier."
"Blocking Asian carp from entering the Great Lakes is critical, and Michigan can't afford to wait any longer," Snyder said in the press release. "I'm confident that the solutions presented today will help take us one step closer to ensuring our waters remain free of this dangerous and harmful invasive species."
Earlier this year, Snyder called for a coalition of Great Lakes states and Canadian provinces
to join forces
to help fund improvements to the Brandon Road Lock and Dam project. The plan, which could begin construction in 2022 and be operational by 2025, would incorporate various technologies to keep the Asian carp at bay, including electric barriers at the lock's entrances and flushing fish and eggs from the system.
A study conducted by the U.S. Army Corps of Engineers called for $275 million to improve the barrier. President Donald Trump's administration delayed the release of the study,
likely due to shipping industry interests,
which opposed the plan. This year and last year, the Trump administration called for 90 percent cuts to federal Great Lakes EPA funding. (Last year, the Republican-led House Appropriations Committee fought to preserve the funding.)
Previously, Snyder complained about the Trump administration's delay of the Brandon Road Lock and Dam study. "It was frustrating to all of us, how long it took to get this study going and get information out," he said.
Researchers working at Alabama's Auburn University have studied methods of tampering with fish DNA to create a
"daughterless gene"
that would result in only male offspring. The hope would be that the fish would breed itself into extinction — a concept that scientists hope could also be used to fight the Great Lakes' exotic mussel infestation as well.