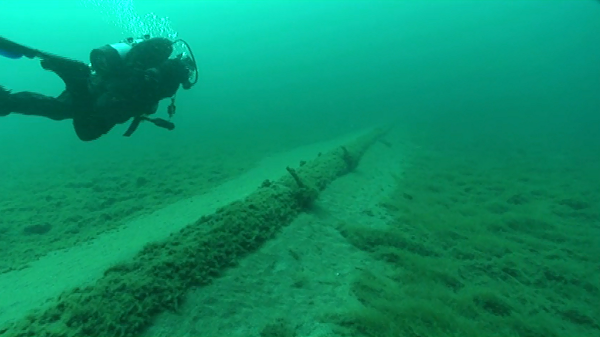 Gov. Rick Snyder called for immediate repairs to the aging, controversial oil pipeline located in the Straits of Mackinac on Wednesday, following the discovery that operator Enbridge damaged the pipes' protective enamel coating.
"Protection of Michigan's natural resources is of utmost importance, and I am greatly concerned by the new information regarding Line 5," Snyder said in a statement. "I have directed our departments to accelerate an aggressive review of Enbridge operations and maintenance procedures throughout the state."
According to several state departments
, an enamel coating that protects the pipes from corrosion was found to be damaged in some areas during an inspection earlier this month. In at least one instance, the damage was found to be caused by Enbridge when the company was adding support anchoring —anchoring that was added after the company was found to be violating its easement with the state, which calls for support structures at least every 75 feet.
"The possibility this loss of coating occurred during the anchor installation process and was not immediately addressed is completely unacceptable," said Michigan Department of Environmental Quality Director C. Heidi Grether in a statement.
The state is calling for an immediate inspection of every anchor on Line 5, a report to the Michigan Departments of Environmental Quality and Natural Resources of the findings from the inspections, a copy of video of recent work performed on the pipeline, and repairs within 30 days of any damage to the pipeline's coating.
State Attorney General Bill Schuette doubled down on his
call for Line 5 to be decommissioned
.
"I am greatly concerned by the gaps discovered on the outer protective coating of Line 5 and his calls for a thorough review," he said in a statement. "This underscores the need for my 5-point plan to protect the integrity of the Great Lakes."
Originally constructed in 1953, Line 5 carries 23 million gallons of crude oil and natural gas liquids per day. Critics warn that an oil spill in the Straits
would be catastrophic
. In 2010, Enbridge was responsible for an oil spill in the Kalamazoo River, which was at the time the largest inland oil spill in U.S. history.