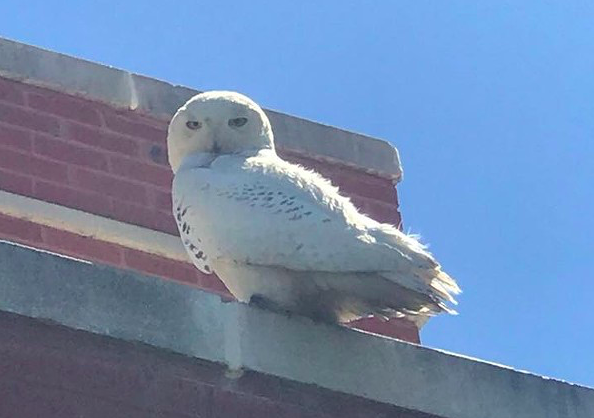 Brace yourselves, winter is coming. Well, not winter exactly but it appears as though snowy owls have returned. Or is it that they never left?
As it turns out, metro Detroit's mysterious invasion of snowy owls is not limited to winter, which is when
Metro Times first reported the recurring feathered phenomena
after a mass migration from northern Canada's arctic tundra led to appearances throughout Detroit and surrounding suburbs.
Yesterday, while summer temperatures hovered near 90 degrees, Lt. Neil Hunter of the
Wyandotte Police Department took to Facebook
to share his finding — a snowy owl perched on and around the station.
"They are far-flying birds," Bailey Lininger, a program coordinator at Detroit Audubon said of snowy owls during our bird watch this past January. "They like to travel." It's not uncommon for these speckled creatures to hang out during winter months (sometimes migrating as far as Florida and Bermuda) only to make the trek back during the spring to breed. Lininger explained that the spike in snowy owl appearances was due to an irregular migration event due to a population boom in their arctic home.
Lt. Hunter told WXYZ
that he is accepting suggestions on how he can keep the bird around. Unlike most owls, snowy owls are
dinural
, not nocturnal — meaning they are active during the day. And though catching a glimpse of a snowy owl in a city or populated area is far from unprecedented, they don't have natural predators, which mean humans their biggest threat. This might explain why the birds might appear to be so brazen in their perching locations — like on
top of cars.

It should be noted that snowy owls are protected under the U.S. Migratory Bird Treaty Act, so it's illegal to hunt or trap them or tamper with their nests. So, the only way you're going to capture one of these majestic visitors is through a camera lens (if you're lucky).
Stay on top of Detroit news and views. Sign up for our weekly issue newsletter delivered each Wednesday.