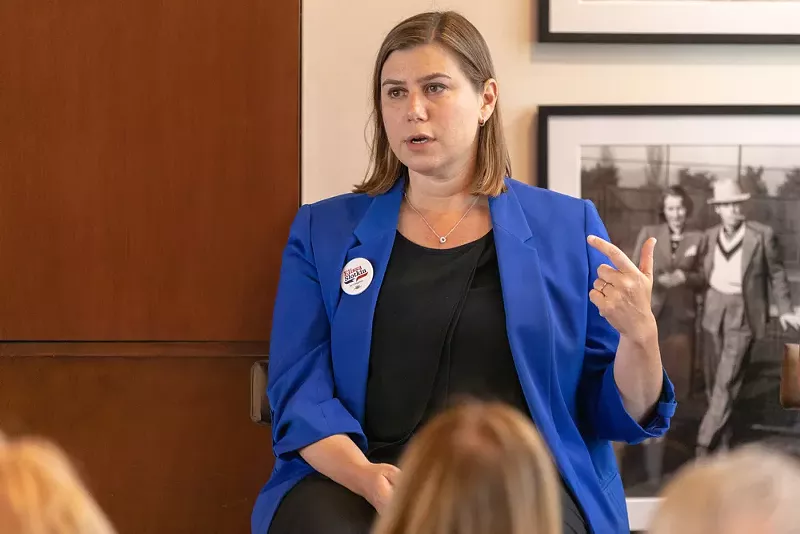 Third-term U.S. Rep. Elissa Slotkin announced Monday that she's officially running for the U.S. Senate seat held by Debbie Stabenow, who plans to retire at the end of 2024.
Slotkin, who represents Ingham County and central Michigan, is the first major Democratic candidate to enter the race.
In a key battleground state, the Senate race is expected to be among the most high-profile elections next year as Democrats seek to maintain control of the upper chamber. Senate Democrats currently have a 51-49 majority.
"There are certain things that should be really simple — like living a middle class life in the state that invented the middle class; like making things in America, so that we're in control of our own economic security; like protecting our children from the things that are truly harming them; and preserving our rights and our democracy so that our kids can live their version of the American Dream," the 46-year-old Holly Democrat said in a video. "This is why I'm running for the United States Senate. We need a new generation of leaders that thinks differently, works harder, and never forgets that we are public servants."
Stabenow, 72, has held the Senate seat since 2001. In January, shortly after
Stabenow announced her retirement
,
Slotkin said she was "seriously thinking about" running for Senate
.
In one of the most expensive U.S. House races in the country in November 2022, Slotkin held onto her seat by beating state Sen. Tom Barrett, R-Charlotte, 51% to 47%. She was first elected in 2018 by narrowly defeating two-term incumbent Republican Mike Bishop in a district that voted for Donald Trump in 2016.
So far, two Republicans have announced their candidacies. They are Nikki Snyder, a Republican member of the state Board of Education, and Michael Hoover, a first-time political candidate and a small business owner born in rural Michigan.
Other potential Republican candidates are former U.S. Rep. Fred Upton, former GOP gubernatorial nominee Tudor Dixon, and state Sen. Ruth Johnson, who previously served as Michigan secretary of state.
Slotkin is expected to face tough competition in the primary election.
Former U.S. Rep. Branda Lawrence — a Democrat who represented Detroit, Southfield, and other cities in Oakland and Wayne counties from 2015 to 2023 — told
The Washington Post
that she wants a "strong, African American to run," and if one doesn't run, she'll consider running herself.
Other potential Democratic contenders include Michigan Secretary of State Jocelyn Benson and U.S. Reps. Debbie Dingell and Haley Stevens.
Coming soon: Metro Times Daily newsletter. We'll send you a handful of interesting Detroit stories every morning. Subscribe now to not miss a thing.

Follow us: Google News | NewsBreak | Reddit | Instagram | Facebook | Twitter