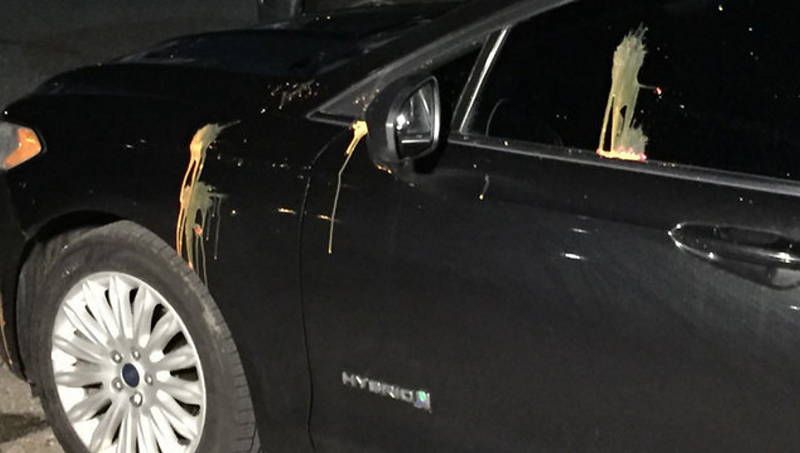 Detroit police have arrested six people who were part of what they describe as a "paintball war" that stretched across the city on Wednesday.
It's a sour outcome for an event that appears to have sprouted from good intentions. Detroit police spokesman Dan Donakowski tells
Metro Times
the "war" originated with a social media post that advertised "something like a paintball rally titled 'put down guns pick up paintballs.'"
Until the police got involved, reactions to the escapade were mostly positive. Even people whose cars got hit appeared to be laughing.
East side Detroit is out of control with this paintball shit. omg y'all gone make the news 😂😂😭😭

— .ogidni (@CinnerPeace) April 25, 2018
East side Detroit is out of control with this paintball shit. omg y'all gone make the news 😂😂😭😭

— .ogidni (@CinnerPeace) April 25, 2018
Detroit men playing paintball around the city. That is so hype!

— your favorite auntie (@stormelisya) April 25, 2018
But paintballs can cause property damage and even bodily harm. Officials on Wednesday also warned that the guns, which they said resemble AR-15s, could
cause a panic
. A substantial portion of Detroiters are licensed to carry guns.
One social media user highlighted this danger:
#Detroit PSA:

It is unacceptable AND dangerous to ride around pulling guns—whether they're real OR paintball— on folk.

This is how folk end up dead—joking around. A child just pulled their paintball rifle on my Father.

The very worst could have happened.

— Tiffany E. Brockington (@MissBrockington) April 25, 2018
According to Donakowski, the crackdown on participants began after a paintball splattered on the car of an undercover Detroit officer. That officer went on to make four of the arrests, according to the
Detroit News.


People were arrested in Detroit's fifth police precinct, which covers the southeast side, and all the way across the city near Rouge Park. They were reportedly arrested for disorderly conduct and even assault, and more arrests may be on the way as police continue to investigate.
The arrests drew the ire of some social media users:
They in Detroit arresting/indicting niggas for having PAINTBALL fights! They don't want anything black to be shit but dead or property of somebody's department of corrections!!

— yae🎀 (@__ColorMeRichx) April 26, 2018
Man stfu they just don't wanna see ppl in Detroit having fun y'all rather arrest everyone shooting paintball guns then the ones killing ppl 📖😴

— Rodney (@ghetto_boyz342) April 26, 2018
The event in Detroit came after paintballers in Charlotte, North Carolina
made headlines
for suggesting the activity could help quell gun violence.
Stay on top of Detroit news and views. Sign up for our weekly issue newsletter delivered each Wednesday.