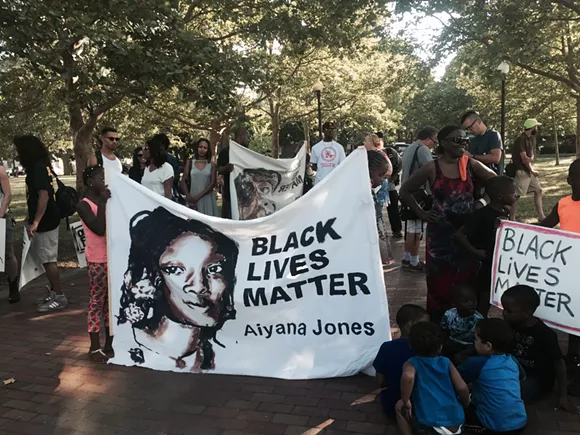 Six individuals, who chained themselves to a Detroit Police Department precinct, were arrested Wednesday evening during a rally honoring Aiyana Stanley-Jones, a 7-year old who was shot and killed by Detroit police officer Joseph Weekley during a May 2010 house raid.
The protest, coordinated by BYP100 Detroit chapter and Black Lives Matter Detroit, aimed to honor the life of Stanley-Jones — who would have turned 14-years old that day — and also demand the firing of Weekley, who still works for the department and was selected this year to co-chair DPD's Committee on Race and Equality.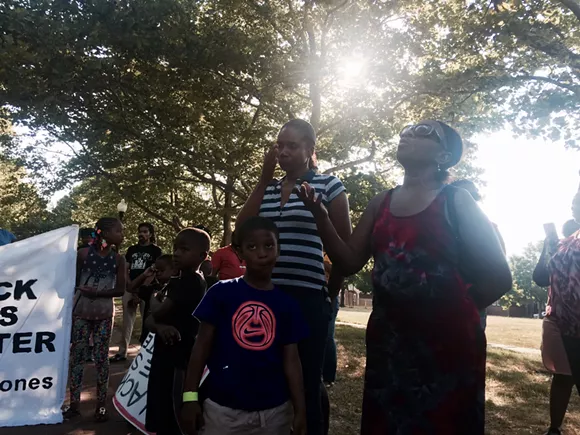 "Accountability needs to be expected from cases like this, because cops can't keep killing people and getting away with it," said Stanley-Jones's grandmother Mertilla Jones, who addressed a crowd of supporters in New Center's Pallister Park before the group of about 100 protesters marched to the Detroit Police Department's 3rd precinct on Grand Boulevard.
There the group was met by additional BYP100 and Black Lives Matter members, including the six individuals who chained themselves to the precinct's front door as a means of active protest.
Protest for Aiyana Stanley Jones meets in front of DPD 3rd precinct. "We do this for Aiyana" pic.twitter.com/6sjKSdEcZa

— Allie Gross (@Allie_Elisabeth) July 20, 2016
In an echoing call-and-response chant those organizing the events, including the individuals chained to the precinct, explained their demands, both as they relate to Weekley and Aiyana, but also to issues of systemic inequality they've pinpointed in Detroit.
"Our public schools are being closed, water is being shut off for bills that are $600, our homes are being taken away from us," protesters announced. "We demand the immediate firing of Officer Joseph Weekley. We demand that the city of Detroit defund the police and fund black futures."
As the protesters continued engaging in call and response chants, members in attendance began fanning out across Grand Blvd., stopping traffic on the typically busy thoroughfare and giving speeches in the middle of the road.
Protest for Aiyana Stanley Jones takes over the street. "Stop the cops and fund black futures" pic.twitter.com/5GVSxKDlJp

— Allie Gross (@Allie_Elisabeth) July 20, 2016
As the the crowd got louder — and more police started pulling up — spectators, including employees and customers at the Mcdonalds next to the precinct, began to watch, and document, the demonstration.
"I heard them talking about the little girl Aiyana," Jonte Hill, a 24-year old McDonald's employee said as she videotaped the gathering. While Hill noted that the police in this particular precinct were not responsible for Stanley-Jones's death, she believed the rally could still make a difference when it came to shifting perceptions and pushing for justice, especially as police killings — like that of Alton Sterling and Philando Castile earlier this month — make headlines nationally.
"When the news is on he knows what's going on," she said, referring to her four-year old son. "I really don't know what to tell him other than you need to be careful."
This uncertainty of how to raise, and protect children, in a world where a sleeping 7-year old could be killed by law enforcement in the comfort of her own home was a common thread throughout the evening.
As was the desire to see repercussions for the actions taken by Weekley that night in May 2010, when he and a SWAT team approached Stanley-Jones's east side home and just after midnight hurtled a flash-bang grenade through the window, before breaking down the door and firing one-single, but fatal, shot into the entrance. It was later discovered that Weekley, who was looking for a murder suspect, had the wrong apartment unit.
"One thing we need to understand is the man that killed [Aiyana] is still being paid by our tax dollars," said BYP100 Detroit member Paul (who preferred not give his last name) to the gathered crowd, later adding. "This man didn't break a damn glass, he didn't drop a sandwich, he killed a seven-year old black girl. Any other job, you kill a child, it's a problem."
In October 2011 Weekley, who was filming a never-aired A&E show
The First 48
at the time of the fatal shooting, was indicted on an involuntary manslaughter charge. He had two trials: the first ended with a hung jury and the second, which happened in October 2014, was declared a mistrial.
In January 2015, Wayne County Prosecutor Kym Worthy dropped all charges against Weekley, making the decision not to take the case to trial for a third time.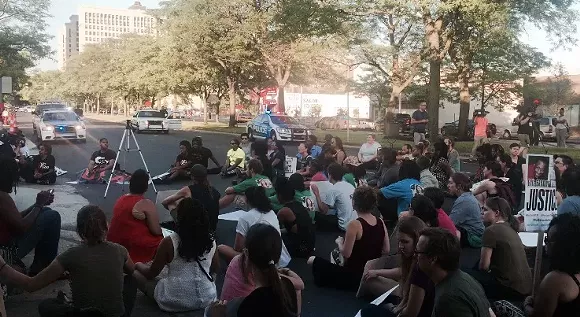 While DPD was originally vocal about the group needing to move from Grand Blvd. — saying that some in their cars were trying to get to Henry Ford Hospital, which is down the road — they eventually began re-routing traffic, agreeing to block off a section of the street for the purpose of a peaceful protest.
"We see this trend across the country. We were prepared for this," Commander Elvin Barren told a group of reporters.
As the protest continued on, however, and individuals were still chained to the precinct, back up officers — as well as members of the Detroit Fire Department — were called to the scene, including one who was charged with videotaping the protesters.
A DPD officer is currently filming protesters, when asked what for he said he did not know and must ask his boss. pic.twitter.com/WTZn9bn550

— Allie Gross (@Allie_Elisabeth) July 20, 2016
Around 8 p.m., after an hour and half of chanting on Grand Blvd., police announced that anyone chained to the building would be arrested and charged with disorderly conduct.
"If you are attached to the building you will be placed under arrest," police announced to the crowd, as an officer with a bolt cutter began hacking through the thick metal chains and other police officers started placing people in zip-tie cuffs.
"We will not harm anyone during this process," one officer, speaking into a portable mic, repeated over and over again.
Individuals chained to DPD precinct arrested at Aiyana Stanley Jones protest pic.twitter.com/QCOAeNPHc4

— Allie Gross (@Allie_Elisabeth) July 21, 2016
Police told the rest of the crowd that they could continue with their peaceful protest — there appeared to be a desire, as was the same at the recent #blackfriday protest, to give people a forum to rally and not be too confrontational; members of BYP100 and Black Lives Matter, however, encouraged those in attendance to head to the Detroit Detention Center on the city's east side to await the release of the six who had been arrested.
"What happened today supports what we've been lifting up about the Detroit Police Department," Denzel McCampbell, a BYP100 Detroit member said in a press release sent out after the gathering. "DPD would rather send a gang of officers to shut down a protest, call for firefighters, and engage in intimidation arrest tactics, than rid their police force of a man who killed a 7 year-old child while showing off for a television show. It's time to remove resources from the police department and dedicate them to improving the quality of life for the city's marginalized communities."
According to McCampbell, the six arrested were released around midnight.
As for Stanley-Jones's family, her grandmother — who was sleeping downstairs with the would-be 14-year old when the police barged into their home — says she was really pleased with the turn out.
"I loved it," she gushed, while sitting by the park where the rally originally started with other members of the family. "It was about time."
In April 2015 Jones and the family sued Weekley, DPD and the city of Detroit in Federal Court for excessive force; the suit is pending.