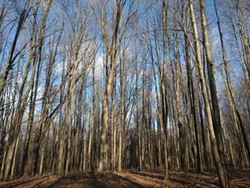 The Sierra Club thinks Michigan has plenty of room for improvement when it comes to its annual environmental report card.
The grassroots group released its scorecard of the 2015-2016 Legislative Session, and the results are pretty dismal. The Senate received a failing score of 55 percent. The House got 61 percent.
The scorecard calculated the results based on 17 roll call votes in the 2015-2016 legislative session. When it came to votes on the environment, the scorecard (see the full report
at the Sierra Club website
) showed a partisan split, with House Democrats scoring an average of 94 percent and Senate Democrats scoring an average of 91 percent.
Meanwhile, House Republicans scored an average of 36 percent, and Senate Republicans scored an average of 39 percent.
It's the partisanship that baffles the Sierra Club.
"It's shameful that the environment has become a partisan political issue," says Mike Berkowitz, Michigan Legislative Director for the Sierra Club, in a statement. "Environmental protections are a no-brainer for all Michigan residents. Our members find it hard to believe that so many of our lawmakers are voting against clean air, clean water, and public health — all of which are vital not only for healthy living but also for a healthy tourism industry, one of the state's largest economic drivers."
James D'Amour, a Republican and member of Michigan Sierra Club's Political Committee, slammed his party in a statement.
"Clean air and clean water should not be partisan issues. We used to be leaders in making conservation a top priority, but no longer," he says in a statement. "The direction of the GOP is disappointing and disheartening for Republicans like me who care about protecting the environment while creating green jobs."