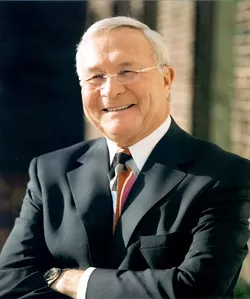 Oakland County Executive L. Brooks Patterson just can't stop saying stupid shit. The latest: saying "he would rather join the Klan" than join a group of CEOs who are bringing business to Detroit.
Previously, Patterson called for a chamber of commerce meeting on Thursday to deal with what he called an "egotistical" group of Detroit CEOs — "self-appointed saviors" who
he claimed were stealing business from Oakland County
to help Detroit.
This, of course, follows a career of Patterson openly wishing ruin upon neighboring Detroit, and came mere days after a county spokesman
denied the county was losing jobs to the city
.
Apparently, that was just Patterson's warm-up act. According to reports, when Patterson was asked at the Thursday meeting if he would join the group of CEOs, he responded, "Oh, hell no. I'd rather join the Klan."
To say the statement was "racially charged" would be mercifully prudent. Hell, it was probably the single worst thing someone could say when referring to a majority black city. Patterson later issued a statement apologizing for what he says was an off-the-cuff remark. "Sometimes when I'm passionate about a topic, I choose sharp words and purposely engage in hyperbole to get my point across," he wrote. "Today, the words I chose offended a lot of people. I apologize for the poor choice of words."
(We'll give Patterson the benefit of the doubt and assume that another of his infamous quips — "What we're gonna do is turn Detroit into an Indian reservation, where we herd all the Indians into the city, build a fence around it, and then throw in the blankets and corn," in
a 2014 interview
— was hyperbole, too.)
Maybe Patterson is learning that what might play well with the old boys at the country club doesn't fly in 2018.
Stay on top of Detroit news and views. Sign up for our weekly issue newsletter delivered each Wednesday.