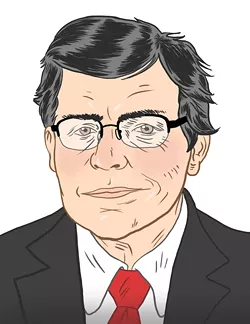 Three months ago, much of the nation was ecstatic when Mary Barra became the head of General Motors, making her the first female CEO of a major auto company in history.
However, I was worried, and said so. Not, that is, because she is a woman. That, in fact, was an enormous plus, especially given how insular, macho and stupid GM's corporate culture has been. She was also clearly smart and seemed savvy.
Yet there was one huge problem that nearly everybody seemed to ignore: She has never worked anywhere else.
Never, not even for a year. Now 52, Barra started working for General Motors as a co-op student when she was a teenager. She went to Kettering, formerly known as General Motors Institute. She was totally immersed in a culture that had led to irrational arrogance, bad cars and bankruptcy.
Yes, she knows its failings too, and presumably learned from them — or should have. She was well thought of by the two outside CEOs who ran GM during and after government loans enabled it to struggle back and survive.
But now General Motors is caught up in what is almost certainly the worst scandal in the company's history.
Worst, because this time there's no chance of another government bailout. Worst, because it doesn't appear that the bad old corporate culture has changed much after all.
Six years ago, when General Motors was just emerging from bankruptcy, I interviewed Jerry Flint, perhaps the greatest auto industry reporter of all time. He'd worked for The Wall Street Journal and The New York Times, for Forbes and Fortune.
Flint, who sadly died four years ago, was one of the first to see what was coming for GM, a company he years ago called "badly led, with an organization that doesn't work."
When the company was emerging from its near-death experience, Flint told me "I think the worst thing would be if GM were to have a big hit car right now.
"That would increase the chance that they'd just go right back to the old culture of arrogance," he said. Well, while GM has now been making billions again, it turns out there was cancer in the system; a faulty ignition switch was killing people.
Mary Barra evidently didn't know anything about this — though other executives did, possibly as early as 2001.
Meantime, the switches were disabling air bags in crashes and cutting off at inopportune times. Company officials looked at the problem and concluded saving lives would cost money.
One internal memo surfaced that said taking action to replace the switches "was not an acceptable business case."
We are talking about a 57-cent part. Last year, one Ray DeGiorgio, the lead switch engineer on the Chevy Cobalt, the car that's had the most trouble, apparently lied about it.
That happened when he was asked about the switches in a court case. U.S. Sen. Claire McCaskill (D-Mo.) told Mary Barra during her testimony, "You know he lied under oath."
To that, Barra somewhat surprisingly responded: "The data that's been put in front of me indicates that."
Now, however, for the truly shocking part:
Ray DeGiorgio still works for General Motors.
Hopefully, not on infant car seat safety. Barra told Congress she wants to wait for the results of a full investigation.
That made me flash back in time to 1992, when General Motors was in another crisis in which it was hemorrhaging money and market share. Then-Chair Bob Stempel was told by the board to fix things. He knew what had to be done …
But he was emotionally unable to fire his buddies. So the board fired him, and brought in an outsider from Procter & Gamble in Cincinnati to do the job.
That doesn't mean Barra can't survive. But anything like business as usual will destroy this company — and General Motors has no right to fail this way. Taxpayers just spent more than $10 billion they'll never recover just to keep it alive.
They didn't do this to reward the motley crew of GM executives, but because allowing GM to fail could have cost more than a million jobs, according to independent studies.
That would have ruined our economy. What Barra needs to do is ruthlessly conduct a purge. Anyone who knew about the faulty switch and refused to fix it, kept it hidden, or covered anything up, especially from her, should be fired, as harshly as possible. Anyone who endangered public safety should be prosecuted — with the full blessing and support of the new GM.
Mary Barra needs to set this tone, fast.
The bottom line is this: Frankly, it is hard to argue that buying a GM vehicle makes sense right now. That has to change, as soon as possible, by any means necessary.
Otherwise, General Motors really may die. Which, for millions, would mean barely imaginable economic pain.
Can Democrats break the mold?
We now know that the Democrats will run Mark Schauer, a former congressman from Battle Creek, for governor, and Mark Totten, a lawyer from Kalamazoo, for attorney general.
Last week, Schauer chose Oakland County Clerk Lisa Brown to be his candidate for lieutenant governor, probably the best move his campaign has made so far.
However, what about secretary of state? As of today, not a single Democratic candidate for that office has emerged. There are a number of reasons for this: The incumbent, Ruth Johnson, is thought to be unbeatable.
Even mounting a reasonable challenge would take more than a million dollars … and the Dems want and need to plow every available buck into their races for governor and U.S. Senator, where Gary Peters and Republican Terri Lynn Land will battle all year for the seat being vacated by the retiring Carl Levin.
But who will they run for secretary of state? I have no idea, but if past patterns hold, I know what color they will be:
Black.
First, a reminder: In an odd quirk of the state constitution, nominees for attorney general are not chosen by the people in a primary. Instead, party hacks— oops, I mean delegates — select them at their state conventions. For years, the Democrats have held rigorously to a dogma that says their statewide ticket has to be "balanced," meaning they have to have one black and one woman, even when that makes absolutely no sense.
Eight years ago, for example, Scott Bowen, a white former prosecutor and judge from Grand Rapids, wanted the job — and might well have defeated Mike Cox. But party leaders refused to nominate him; they needed a black for the ticket.
So they nominated a former policeman named Amos Williams, who had fewer qualifications and no money. Predictably, he got smeared. Eight years before that, the Democrats were in the same situation with secretary of state.
They nominated a black state representative whose campaign was such a joke she even lost Wayne County.
That doesn't mean Democrats shouldn't nominate a well-qualified black candidate, if one appears. But to stick a less-than and woefully underfunded African-American on the ticket is not "fair and balanced" but the worst kind of tokenism. If Democrats do that again this year, they should be ashamed.