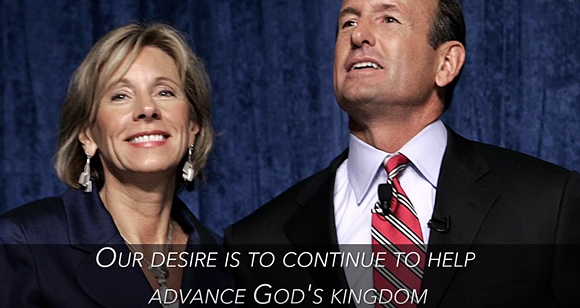 Betsy DeVos
' senate hearing is today. At 5 p.m., to be exact. It was supposed to take place last week,
but was postponed
. She'll testify
in front of lawmakers
about her
ability to be an effective secretary of education
and she will no doubt invoke her experience as an education reformer, you know all that good work she did making a complete and total mess of the Detroit Public School system.
If you want to learn more about how you can watch,
click here
.
If you want to learn more about the havoc DeVos has wrecked as an "education reformer" you can watch this short film created by Brave New Films.
The film seeks to educate viewers about DeVos' advocacy for defunding and disbanding public education, noting that her experiment with turning Michigan public education in a school of choice system has had disastrous consequences.
The 8-minute film paints a morbid scene of the state of both public and charter schools in Detroit, complete with quotes from DeVos about buying political influence through millions of dollars of campaign contributions.