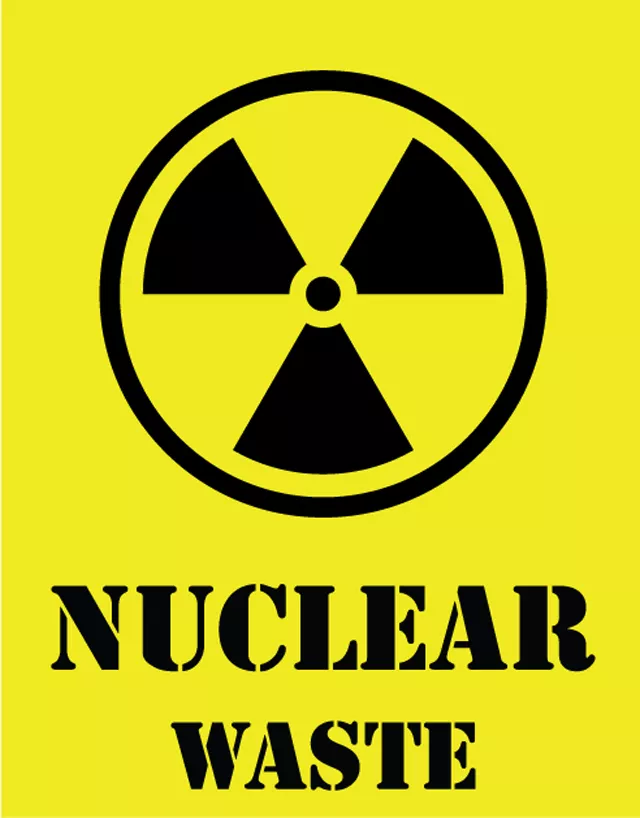 If you believe the folks at the Bruce nuclear power plant in Ontario, there's little to fear from the proposed shipment of 16 steam generators contaminated with radioactive waste.
Under a plan proposed by the company, the generators — each the size of a school bus and weighing in at 100 tons — would be shipped through three Great Lakes and the St. Lawrence Seaway and across the Atlantic to Sweden, where the metal would be recycled and the remaining radioactive material returned to Canada. Both legs of the trip would include Lake St. Clair and the Detroit River.
Duncan Hawthorne, the CEO of Bruce Power, made the whole issue sound almost trivial during a recent hearing on the matter in Ottawa. "There would be a greater radiological impact of someone with a pacemaker falling over the side of a boat and drowning," he testified, according to a report from CBC News. "He would introduce more radioactive material into the lake than one of our steam generators."
As for opponents of the plan, they are the usual anti-nuclear suspects "who oppose everything we try to do," says John Peevers, spokesman for Bruce Power.
Except that it's not just the no-nuke crowd waving red flags here. For starters, there are seven U.S. senators from Great Lakes states — including Michigan Democrats Carl Levin and Debbie Stabenow — who have signed a letter expressing their concerns about the plan.
"It is our understanding that the proposed shipment of 16 radioactively contaminated nuclear steam generators would require several exemptions from international radioactive shipping standards because the shipment would exceed the amount of radioactivity allowed for a single shipment and would not comply with current shipping container requirements," the senators wrote in an October letter to the Pipeline and Hazardous Materials Safety Administration, which would have to give its stamp of approval for the plan to proceed.
"We urge you to comply with both the letter and the spirit of he law and reject any proposal that does not protect the Great Lakes or comply with U.S. and international standards," the senators concluded.
But those seven solons are far from alone. When the nonprofit environmental group Great Lakes United produced a resolution calling for a halt to the proposed shipments, they received the support of a broad coalition that includes: seven aboriginal organizations, 38 local municipal authorities, seven professional organizations, 14 peace and justice organizations, 23 environmental organizations and 30 nuclear watchdog groups.
So opposition to the plan is certainly broad.
Opponents want the contaminated generators to be kept on site. That's what the company originally planned to do, according to an earlier environmental impact assessment it filed. That plan, which has already been approved, is far preferable, says scientist Gordon Edwards, president of the Canadian Coalition for Nuclear Responsibility.
"Bruce Power contends this is a routine matter," Edwards tells News Hits. "We see it as an attempt to set a dangerous precedent. If this is approved, it will be just the tip of the iceberg of what will come. Do people really want to see the Great Lakes transformed into a highway for radioactive waste?"
Gordon admits that the prospects of an accident are remote, but argues that even a slight possibility of radioactive material getting into a water supply that serves some 40 million people is too great a risk.
Beyond that, there is the whole issue of "recycling" metal contaminated by nuclear waste.
"The company says that what they are doing is reducing their environmental footprint," Edwards says. "What they are really doing is spreading that footprint around the world."
In a document submitted to the Canadian Nuclear Safety Commission last week, Edwards expanded on that idea, writing: "Some of the radioactive contamination from the Bruce Steam Generators will undoubtedly be staying in Sweden, and some will be exported around the world in countless metal products made from 'recycled' scrap metal, which is now radioactively contaminated. And how is this to be seen as a noble undertaking?"
Also, according to activist Kevin Kamps of the Maryland-based nonprofit group Beyond Nuclear, there are no contingency plans in place should the ship carrying these generators go down.
"Bruce Power's CEO, Duncan Hawthorne, admitted at CNSC public hearings ... that there is no emergency plan for recovering the ship if it sinks in the Great Lakes, flippantly adding there would be plenty of time to figure out what to do," Kamps has said. "But CNSC staff admitted that the welds sealing the radioactivity within the steam generators are only dependable to a depth of 800 feet submerged underwater, the exact depth along portions of the Great Lakes shipment route. This means there is zero safety margin. ...
"Radioactive waste should be isolated from the human environment, not transported halfway around the world, and certainly not dispersed into consumer products."