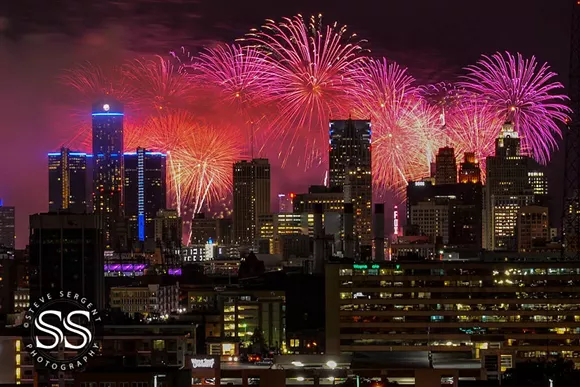 Update (2:35 p.m., Monday, June 22)
: The fireworks show has an earlier start time to beat the severe weather. The show is now slated to begin at 9:06 p.m tonight. You'd be wise to still pack an umbrella.
__________________________________________________________________________________________________________________________________________________________________________________
Original story (11 a.m., Monday, June 22):
The annual Detroit fireworks display may be delayed until Tuesday if forecasts of torrential downpours and potential hail come to fruition.
The National Weather Service says golf-ball sized hail and tornadoes are possible in metro Detroit this evening, given the circumstances Mother Nature is presenting.
There's the potential for severe weather activity in the early- to mid-afternoon, said Bryan Tilley, a meteorologist for the National Weather Service's outpost in White Lake Township. The high today is expected to climb to the mid-80s, and the chance for precipitation is set at 70 percent tonight, Tilley said.
A low pressure system moving from Minnesota across the Great Lakes will pull a warm front in Ohio northbound, "which is going to be primarily responsible for the afternoon activity," he said. Wind gusts could exceed 60 miles-per-hour.
"Really, the ingredients are in place for all 3 of the primary severe weather types," Tilley said. "That being large hail and tornadoes and damaging straight line winds."
With the Detroit fireworks set to kick off at 10:06 p.m., that may force the estimated 500,000 people organizers say will flock to downtown for the event to rearrange their plans. The Parade Company, which plans the event, says if inclement weather persists, the fireworks would be moved to Tuesday. A message was left for the company's spokesperson on what time a decision could be made to cancel the event tonight.
Now, if you plan to attend regardless of which day the fireworks are lit, traffic arrangements are worth noting.
According to the Michigan Department of Transportation (MDOT), the following exits and on-ramps will be closed between 6 p.m. and midnight:
South M-10 between I-75 and Jefferson.
South M-10 ramp to Jefferson and Joe Louis Parking Garage.
South M-10 ramps to Howard and Bagley St.
Forest and Warren ramp to south M-10.
East Jefferson Ave ramp to south M-10.
North M-10 ramp to Jefferson.
North I-75 ramp to south M-10.
South I-75 ramp to south M-10. (Take the detour from south I-75 to Grand River)
North I-75 ramp to south I-375.
South I-375 from I-75 to Jefferson; including ramps to Madison, Lafayette, and Larned. (Take a detour to south I-75 to south M-3)
Gratiot Ave. from I-375 to Randolph, south M-3 (Randolph) from Gratiot to Jefferson.
Gratiot Ave. ramp to south I-375.
Gratiot Ave. ramp to north I-75.

Mack Ave ramp to south I-75.

South Woodward Ave. between I-75 and Adams.

East Michigan Ave. from 3rd to Cass.
In addition, these closures will be in effect from 10 p.m. until 2 a.m.:
North I-75 ramp to Warren Ave.

North I-75 ramp to Mack Ave.

Mack Ave ramp to north I-75.

Warren Ave ramp to north I-75.

North M-10 ramp to Forest and Warren Ave.
More info on where you can park can be found
here
. WDIV Channel 4 will broadcast the fireworks live.