"DO YOU THINK I should have gone to the trial?" Aisha asks.
Larry Gaulding's trial in the murder of Ashton O'Hara is three days in and Aisha is considering a pang of guilt. She'd assumed, like many, that Gaulding wouldn't be convicted. Facing down the worst possible outcome, it'd been easier in theory to not get involved.
But hearing about Ashton's family attending the trial, Aisha is reconsidering that stance. She'd gotten into the car an hour before Ashton, after all.
"[Ashton] wasn't going to get justice," Aisha says. "I'm just ... I know ... I'm really ... How can I put it? I am vivid with the details and ask a lot of questions. Maybe I could have said something that Josh [Allen] didn't say."
The undercurrent is the expectation that trans women won't get justice. The fear isn't new. It's the next progression when one internalizes society's view that you are disposable. And it's what you question when asking and trusting a jury of your peers — in name only, in a certain sense — to value each life equally.
Detective White, the lead investigator in Ashton's death, expounded on those thoughts.
"Once we get past whether or not the victim did something wrong, now you have the prejudice of their lifestyle," White says. "Absolutely those barriers to justice exist. You just have to hope that someone is educated enough to not let that affect their decision. Because at the end of the day, we're all human and we deserve justice no matter."
The ugly side of that equation unfortunately played out in Ashton's trial, where her line of work and gender identity seemed to be more of a focus than the killing.
"Through this whole court proceeding I felt like my son was the one on trial," Rebecca O'Hara remarked in her open to letter during Gaulding's sentencing.
You wouldn't blame Ashton's mother for feeling that way. The prosecutor merely explained that Ashton was a cross-dressing sex worker. The defense attorneys were even more egregious, referring to Ashton as a "female impersonator" and "dude in drag" on several occasions. Throughout the entire trial, the prosecutor, defense attorney, and the judge all referred to Ashton as a man — something Ashton's mom admits she does, and notices other mothers of trans women do as well. That being said, Rebecca O'Hara doesn't feel comfortable with others doing it. "I think that it's something that's pretty much conditioned in my mind. It's kinda like, it's okay if we [mothers] do it, but it's really not okay if other people and strangers do it."
The sentiment was reiterated by Sanford, Ashton's grandma, who at one point wheeled her walker out of the courtroom, huffing under her breath, "I can't take this. I am so sick of hearing 'Mr. O'Hara.'"
No one heard about the free spirited sensitive woman that Ashton was. Nor did the realities of why Ashton may have turned to sex work ever get brought up. It was simply the cross-dressing sex worker who had done coke and weed.
The language and characterization, unsurprisingly, filtered to the jury. Take, for example, this question from a juror: "Because Ashton had drugs in his system would that mean he would die quicker?"
Gaulding was originally charged with premeditated second-degree murder. The jury ultimately found Gaulding guilty of voluntary manslaughter, a lesser charge that typically carries a sentence of five to 15 years. Judge Thomas Cameron, however, sentenced Gaulding to 30 to 60 years. His decision, while possibly informed by the brutality of Ashton's death, was solidified by Gaulding's rap sheet. Eleven felony charges. Sixty-three misdemeanors. "I have never in my career seen anyone with a record this long," Judge Cameron said.
Despite Caitlyn Jenner, Laverne Cox, Janet Mock, and all the other examples of successful trans women, the world is still behind. And nowhere was this clearer to Rebecca O'Hara than in the courtroom at the murder trial of the man who killed her child. But she already knew, to a certain extent, what was coming.
A few weeks after Ashton's death there was a community meeting in Palmer Park. One older African-American resident stood up and voiced her concern. "I don't want them in my neighborhood," the woman said, referring to the trans women. "They're prostituting by my house."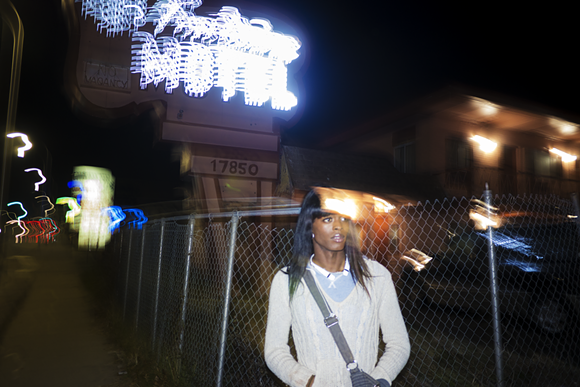 The woman's comments stuck with Rebecca O'Hara.
"These are people too. They have to eat too. Nobody's really hiring them because they choose to be themselves," O'Hara says. "This is an older black women [who said it]. I'm sure she has come across some barriers to get to where she is, and I look at this as being the same thing. This is a barrier they have to cross until things get better."
---
JULISA IS IN a tailspin.
After a "really, really, really good" in-person interview, where she was convinced she got the job, the Empowerment Plan got in touch to say they decided to go with someone else. The fact that Julisa wanted to work three days there — in order to keep the Cass job — wouldn't be fair to their other workers, they told her.
While it wasn't her identity that was holding her back, Julisa saw links. She wouldn't have needed to keep both jobs if she wasn't living in poverty — and that fact she could trace to her identity. Julisa was devastated.
Things got worse. Julisa elected to go home a few days — a frustration with a situation where she was starting to feel completely powerless.
When Julisa checked her pay stub earlier today, she was aghast at the number she saw: $89.
Intensifying all of this, she and Cortez broke up. After four years, she called it off in a moment of what seemed like clarity but today feels like insanity. She always knew she was on the cusp of being broke and always felt kind of alone, but now she was really broke, really alone. She already told Aisha, her best friend, about the breakup. "He's gone," Julisa wrote.
Three weeks earlier Julisa had thrown a massive Christmas Eve party for trans women in the city. There was food from Boston Market, music DJed by Cortez and a holiday raffle with gifts Julisa had picked up from CVS: the new perfume gift set from Beyonce (the singer), a pink and white robe and slippers, a toiletry set, and pink headphones. She knew how gloomy the holidays could be for many trans women who didn't necessarily have family to return home to. Julisa's goal was to give the girls something to look forward to. Beyonce, Aisha, Ashley were all there — as was the Detroit Police Department LGBTQ liaison Danni Woods.
Julisa had felt like one of the luckier trans women, someone in a place a privilege, with a job and an apartment, able to collect charity and throw a much-needed party. But tonight she felt completely the opposite — absolutely and utterly hopeless, the one who needed help, an inadequate adult.
"I feel like I am in a prison," she says, before starting to cry as she paces her empty apartment. "I feel like I am in prison because of my identity. I've tried applying for jobs. What else are you supposed to do?"
She had raised over $2,000 on her GoFundMe page to throw events — like the Christmas party — for trans women, and a thought flickered in her head about borrowing some of the money. But Julisa couldn't do it. She wanted to be legit on day, to have a nonprofit, to be the one giving. No she couldn't do that. That money was for the girls who were "worse off."
But what makes someone worse off?
Plopping down on her worn couch, Julisa scrolls through her text messages looking for something she wants to share to make her point.
"Look at this!" she exclaims. "Just look at this."
It's a picture of what someone's arm might look like after a shark attack — a big gaping whole. But that's not what it was.
Over the weekend, Julisa explains, a trans woman who was new to Detroit went to the stroll at Six Mile and Woodward. She had gotten a motel room with a date and things were going fine, until he tried to push things further. She asked for more money and he said he didn't have any. She told him to leave. He left and then knocked a few minutes later, saying he left something. When she opened the door he stabbed her.
It wasn't fatal, so you won't see it in the news. And she didn't report is because prostitution is not only criminalized, but it was probably unclear how the police would react to her if she did call them. Maybe if she had been in Detroit longer she would have known to call Officer Woods. But she was new to town, and she didn't.
With no official record, it won't join the list of devastating statistics about trans violence in Detroit. But it's real: Somewhere in the city, a woman was nursing a shark-bite sized gash on her wrist. The woman's boyfriend had sent the picture of the wound to Julisa. He was hoping she could point them toward a shelter. Even as Julisa felt her life unraveling, there were people worse off who needed her help. Tonight, she could do that.
Julisa closes the picture and switches over to Facebook. Aisha's responded to her message about Cortez.
"Girl, I love you so much," Aisha wrote. "You (we) deserve so much more from life than what's been coming to us. I promise to be your best friend, your sister, your crutch when things get rough. And most of all, I promise to never leave you. With that being said, I love you."
Julisa smiles.
"When I was little... You know how you think about when you're grown..." she says. "I just envisioned 31 to be so different. I'd have a job, a house, a car. So I just keep pushing through hoping one day it will get better. But honestly, some days it just feels like there is no light at the end of the tunnel, and I have to give myself a pat on the back and just remind myself that it will get better."