BRE CAMPBELL SPENT a lot of time debating whether she should publicly transition and live each day as the woman she felt inside. The reality of Beyonce and Savannah's living conditions is not remarkable. That is how many trans women survive after being pushed out and derided in the formal economy. Bre knew this and to a certain extent it scared her.
When Bre was 15 she and her family moved to Detroit from North Carolina. She began hanging in queer spaces like the Ruth Ellis Center, which at the time was located in Palmer Park. Around the age of 17, she began seriously considering transitioning, at which point she reached out to an older transgender woman she looked up to for advice.
The woman was really excited, Bre, now 28, recalls. She told Bre that she would dress her up and help her put up an ad. An ad meaning for sex work. When Bre pushed back, the woman countered with a question Bre will never forget.
"How else do you expect to make money?"
It was then that Bre learned one of her first, and hardest, lessons about survival as a transgender woman.
While Bre is not judgmental of those who do sex work — she is well aware of the life circumstances and obstacles her trans friends go through — she didn't like the idea of her gender identity determining her career and life opportunities.
And so, with that in mind, it wasn't until Bre was 24 and had a stable job as an HIV tester and counselor with Wayne State University's Horizons Project that she began transitioning.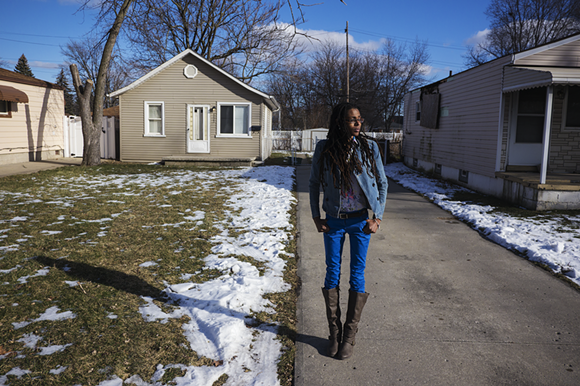 Bre's situation is complicated. If Julisa, with her part-time job, is considered one of the lucky ones, Campbell is an outlier far luckier by comparison. The decision to hold off transitioning provided Bre with job security — Wayne State kept her on and in 2015 she accepted a new job as the Transgender Community Specialist at the University of Michigan's Center for Sexuality and Health Disparities — and that comes with its own set of luxuries like a car, health insurance, a stable home in Dearborn Heights. But it also came with a cost. For years prior to her transition, Bre battled depression. She felt trapped in a body that didn't match how she felt on the inside.
"Waiting was more for survival," Bre says. "I was on the verge of suicide and I was trying to figure out how I could live, be myself, and still be able to have access to my family, still be able to have access to employment, still be able to feel safe."
That very real employment hurdle — one that keeps more than a quarter of black trans women unemployed — was highlighted in 2005 when Bre, pre-transition, attended an LGBTQ conference and met some of her heroes in the movement, like revered trans activist Miss Major Gracy-Griffin.
"It was humbling and eye-opening for me because I was under the impression that a lot of the women who we see doing amazing things and running organizations and holding people accountable, I always assumed that they had a little bit — that they were a little bit more financially stable," Bre says.
In reality, many of them were still living in poverty.
The experience stuck with her and in many ways informed her latest endeavor, the Trans Sistas of Color project, which she hopes will not only advocate for the trans community but also employ the trans community — something that is greatly missing from the organizations, social services, and research focusing on trans women.
Housing and jobs are the most important obstacles the trans movement must address, according to Bre. Most funding and researching is centered around HIV/AIDS — trans woman are currently the country's fastest growing population of HIV-positive people. To Bre the focus on risk reduction through condoms and safe sex classes is shortsighted, as many of the systemic issues affecting trans people — violence, HIV/AIDS, homelessness, drug addiction, mental health issues — could be remedied by addressing access to jobs, training, and stable housing.
"If you really wanted to reduce HIV amongst trans women then you would understand this is not just about putting on a condom," Bre says. "I know a lot of trans women who are participating in sex work and they're like, 'Bre, if you know a job let me know, I'm trying to get off these streets.'"
But if no one is hiring, what's a person to do?
---
IT'S AN ICEBOX cold December evening and Julisa is positively buzzing.
Earlier that afternoon she received an email from the Empowerment Plan, a Detroit nonprofit that hires previously homeless women to make sleeping bag coats for transient people. The floor manager of the organization had reached out to see if Julisa was interested in submitting a resume.
Already she was plotting. The Empowerment Plan would pay a dollar more than Julisa was currently making, and there was room for promotions and growth. What if she could work three days a week at Empowerment Plan, and keep her Cass job, she thought. If she didn't tell Cass, they wouldn't know about the extra income, and her rent wouldn't increase. Perhaps, she would even be able to start saving — something she hadn't been able to do since she lived in Florida.
It was with this excited energy — the hope of something new, something changing — that Julisa greeted her friend Kamal Avery.
"What did you think?" Julisa asks as she lets in a wiry gender non-conforming 20-something decked out in gray and red Nike sneakers, red jeans, and a matching red, gray, and black beanie.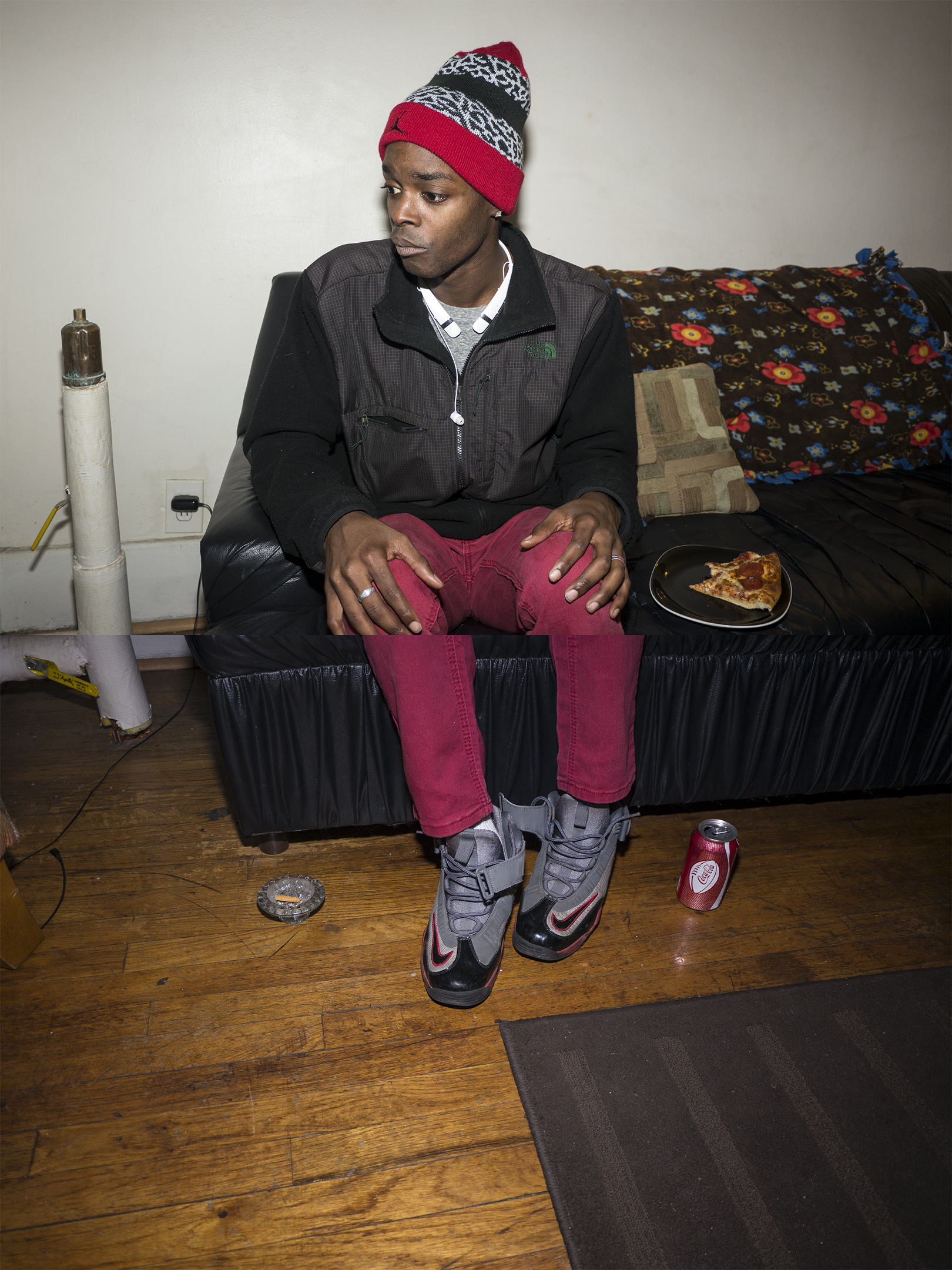 Julisa's friend smiles for a second and then takes a seat. "It almost made me cry," Avery says.
Avery is talking about a Canadian documentary about transgender discrimination that Julisa pulled her into. While Motor City Housewives never got picked up, and Julisa got cut from Bad Girls' Club Season 9 in the final round of auditions, her proximity to media and reality documentation is still present — if not more so than before. In recent months she's spoken to reporters from Vice's Broadly, BuzzFeed, HBO, the Guardian, and Fusion, to name a few. And friends like Avery who turn to Six Mile and Woodward for income are often featured too. Julisa is a connector, and she continues to point any megaphone toward the women she knows so that the world might see how they live.
Julisa presses Avery about how she felt watching herself talk on camera in the video.
"Just the things that I go through to be out there," Avery says. "Being robbed, being homeless out there, going from hotel room to hotel room, or not even the hotel rooms, at the park on park benches. It's really catching me a lot, like this is really life, like I can't go and be a girl like I really want to and get no job."
Avery chooses to dress like a man on a day-to-day basis, simply because she finds it easier. While there's still teasing for being effeminate — she's dealt with that since high school, where she dropped out after the 10th grade — it pales in comparison to the dangers she thinks she would face if she dressed like a woman every day, like she wants to.
That's why when she used to work at Cass Community Social Services with Julisa, she went by the first name of Kamal and dressed as she is on this evening — like a boy. At night, however, when Kamal Avery goes to Six Mile and Woodward, the name changes and so does the wardrobe. Kamal can become Ashley.
The film brings up mixed emotions for the demure and likeable 28-year-old. She is scared to try and get a traditional job living and dressing as Ashley, a woman, which means the only way to make money as Ashley is on the stroll in Palmer Park. Which has its own set of struggles and dangers.
"This is December," Avery says, "standing in the cold on the corner for $20, or $40, or $60, or $100 here and there. I mean it helps. I'm not going to lie, it helps me to eat. It helps me to find out what I am going to do for the next day."
She pauses. "The video was, like, life touching."
There is something unique about Avery being able to see her struggles documented, to see it in the third-person, to get a play-by-play back and see people care. That said, there is the flip side. There is documentation, but things have not changed.
Tonight, she is staying at Julisa's so she doesn't need to go out to make money. But the following night it's back to business as usual. While Julisa's goal is the new job, Avery's goal is $55. That's how much she needs to buy a room for the night at the Motorama Hotel on Woodward and Eight Mile.
Julisa is reading an article about trans news on her phone and interrupts when Avery starts talking about Woodward and Six Mile.
"Aisha got robbed the other night on her birthday," Julisa says. "You need to be careful of a white Cadillac with a busted door."
---