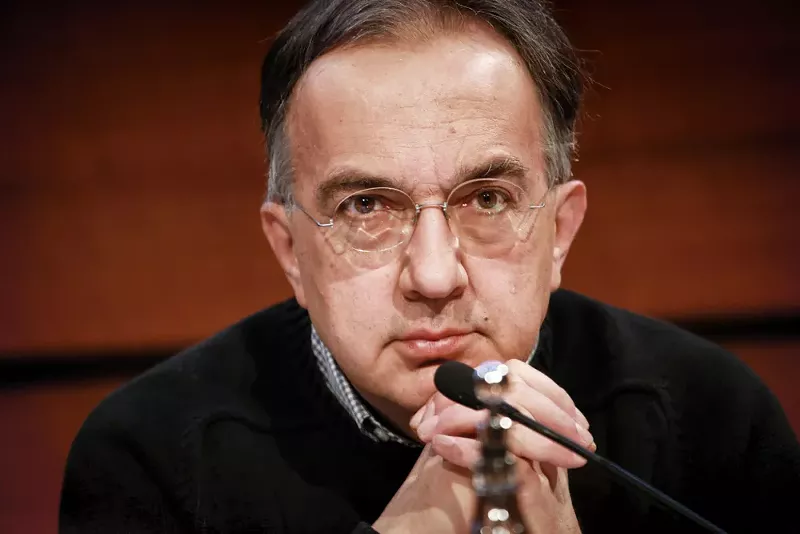 The late Fiat-Chrysler CEO Sergio Marchionne was grilled by federal agents as part of an investigation into an alleged scheme to keep union bosses "fat, dumb and happy" by giving them expensive gifts, according to a new report.
According to
The Detroit News
, Marchionne, who died in July, did not tell the FBI that he gave an expensive Italian watch to UAW Vice President General Holiefield. The revelation came from two sources who spoke under the condition of anonymity because they were not authorized to discuss the case.
In the court filings, Marchionne is referred to only as "FCA-1." According to the sources, Marchionne was asked by federal agents in 2016 if he gave an expensive Terra Cielo Mare watch emblazoned with an FCA logo to Holiefield in 2010, to which he replied no. (In 2014, such a watch was worth $2,245.) The watch was given with a handwritten note from an unnamed FCA executive that read, "Dear General, I declared the goods at less than fifty bucks. That should remove any potential conflict. Best regards, and see you soon." Marchionne was later confronted by agents with evidence that he gave Holiefield the watch, according to the sources, in what the
News
described as "a dramatic 'gotcha' moment."
It's unclear what happened next. Marchionne, who died in July at age 66, was never charged; potential charges could have including making a false statement and breaking federal labor law by giving union officials money and valuable items. Holiefield died in 2015, and his widow Monica Morgan-Holiefield was sentenced to 18 months in federal prison last month for criminal tax fraud.
Meanwhile, FCA labor negotiator Alphons Iacobelli was accused of using more than $1 million company funds on a Ferrari 458 Spider convertible (with an "IACOBLI" vanity plate), a pool at his Rochester Hills mansion, and "two solid-gold, bejeweled Montblanc fountain pens that cost $35,700 each." And UAW leaders used company credit cards to pay for such personal items as "$1,000 pairs of Christian Louboutin shoes, jewelry, purses, and a $2,180 shotgun."
In a statement to
The News
, FCA confirmed that Marchionne met with federal agents in 2016 "in the spirit of full cooperation" and "answered questions to the best of his recollection." The automaker "continues to cooperate fully with this investigation."
Since the investigation is ongoing, the company declined further comment.
Stay on top of Detroit news and views. Sign up for our weekly issue newsletter delivered each Wednesday.