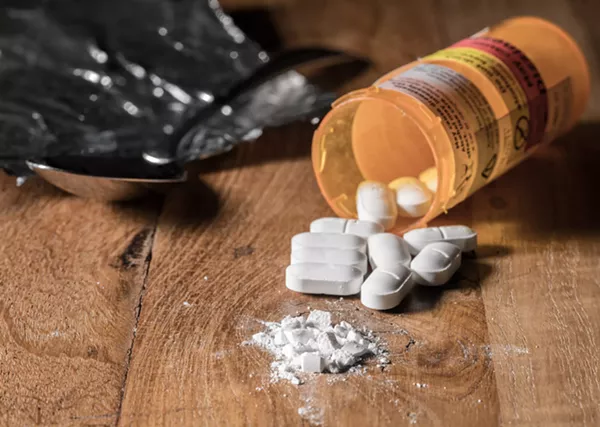 Michigan's opioid epidemic has, in recent years, only been getting worse.
In 2015, the state for the first time saw the number of
opiate overdose deaths
outpace the number of car crash fatalities, as the Michigan Department of Health and Human Services tallied nearly 1,300 overdose deaths. Michigan doctors over the past two years issued more opiate prescriptions than ever before, with the 11 million prescriptions issued in 2015 up more than 40 percent from about a half-decade earlier. That's more opiate prescriptions than there are people who live in the state. The Centers for Disease Control and Prevention estimates that
1 in 4 patients
with long-term prescriptions for opioid painkillers will develop an addiction to the drugs.
Addiction, obviously, leads to an increased chance of overdose. But it also leads to skyrocketing health care costs. One report compiled by a Washington-based economic policy consulting firm using data from the CDC found Michigan saw
$830 million in health care costs associated with prescription opioid abuse
in 2007, making the state's health care system one of the most cost-burdened by the substance abuse. A separate 2011 study zoomed in on how those costs are generated, finding that for each opioid overdose death, there are
11 abuse treatment admissions and 33 emergency room visits
.
In recent years, much of Michigan's spending on substance abuse treatment has been covered by the Obamacare Medicaid Expansion. The Associated Press found that the expansion accounted for
56 percent of total Medicaid spending on substance abuse treatment in Michigan
— among the most of any state.
The Senate Republican health care bill unveiled last week is expected to gut that spending over the next ten years. The bill essentially eliminates federal funding for the medicaid expansion, with the
Washington Post
reporting that if states wanted to keep it, they'd have to
spend five times as much on those enrolled
. The non-partisan
Congressional Budget Office
said Monday that 15 million people currently covered by Medicaid would lose their coverage by 2026 under the Senate bill.
Recognizing that the Medicaid cuts could dramatically undermine efforts to address the country's opioid epidemic, a pair of Republicans from states hard hit by addiction reportedly sought to replenish some of that money with a separate,
$45 billion dollar funding stream
that would pay for substance abuse treatment and prevention over ten years. What emerged was a bill that allots just $2 billion to those causes in 2018.
Some GOP senators have sought to put a positive spin on the provision of the health care bill, saying it's the
most Congress has ever appropriated in a year to fight the opioid crisis
. They've noted that the money comes on top of the $1 billion in grants to states Congress approved in a bipartisan effort last year.
Michigan recently received $16 million
of that.
But such sums only go so far. We could not pin down exactly how much Michigan spends trying to combat its opioid epidemic, but last year,
Ohio alone spent nearly a billion dollars
in doing so. Seventy percent of that cost was reportedly covered by Medicaid.
It's unclear when the Senate will
vote on its health care bill
. Party leaders had been pushing for a vote ahead of Fourth of July holiday, but it appears it will be delayed as they try to secure votes following a CBO score that found the bill would leave 22 million Americans uninsured.