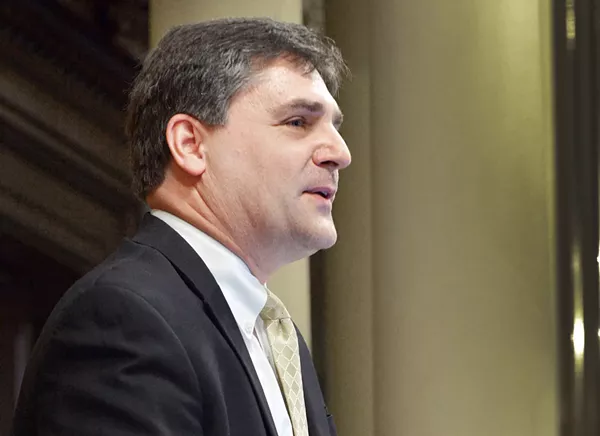 Pass the popcorn — this shit is hilarious.
On Tuesday,
Bridge
magazine published
a report
on proposed changes to Michigan's K-12 social studies standards, which include removing references to climate change,
Roe v. Wade
, the KKK, and more. The report noted the conservative bent to the changes, which were influenced by Sen. Patrick Colbeck, a Republican candidate for governor who
has been compared to President Donald Trump
.
Perhaps because he was called out by name, Colbeck (or his campaign) felt the need to issue a rebuttal to the
Bridge
report, accusing the publication of "misleading and inaccurate reporting." However, in true Trump-like fashion, it appears to be Colbeck who is inaccurate.
Bridge
, in turn,
responded line-by-line
to Colbeck's response, expertly employing the
Arrested Development
"narrator meme"
to interrupt and contradict him to beautiful effect.
Colbeck's camp sets the vibe immediately by getting not one but both of the
Bridge
authors' names wrong, saying it was written by "Lindsey Van Huille and Paul French." The narrator stoically responds: "The
Bridge
reporters on the story are named Lindsay VanHulle and Ron French."
It only goes downhill from there.
Colbeck's camp then disputes what they perceive as
Bridge
's casting of him as "the primary ringleader" who had "more authority than any other member on the panel" behind the proposed changes. Again,
Bridge
disputes this, pointing out that their report suggests neither.
Colbeck also sought to clarify one of the most amusing of the proposed changes, which calls for removing the word "democratic" from the phrase "core democratic principles" because, you know, the D-word. Colbeck's camp insists "democratic" was not removed because it was too evocative of the Democrats but rather because it is inaccurate: "He advocated for removal of the word 'democratic' not because it sounds similar to 'Democrat' but because students in school learn that the American system of government is a 'democracy' when it is in fact, a 'republic,'" the campaign writes.
Again,
Bridge
says this is wrong — and claims it has receipts! In a rebuttal, the publication says it has audio recordings of Colbeck saying (on two occasions) that the phrase "core democratic values" is not "politically neutral" and that he "didn't pursue the word Republican for the same reason."
It might be time to show those receipts.
You can read
Bridge
's full line-by-line rebuttal to Colbeck's rebuttal
here
.
Stay on top of Detroit news and views. Sign up for our weekly issue newsletter delivered each Wednesday.