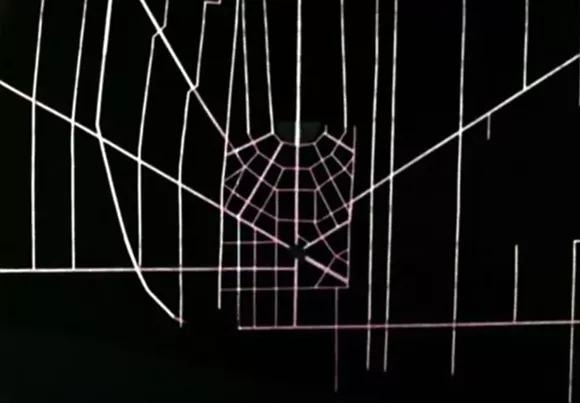 We've enjoyed the work of
blogger and historian Paul Sewick
for years now. And when he began his
ambitious three-part series on the birth, brief life, and death of Judge Augustus Woodward's plan for Detroit
, we couldn't wait to see the results.
The weird stuff Sewick unearthed
included a rock and a marker that were buried downtown about two centuries ago, and further details about the precocious and pretentious Judge Woodward.
Well, the final installment has been published, and it's a wonderful bit of history, with all the pesky little details on the plan's death, and a collection of musings on what might have been had it been retained. Perhaps the best part of it is the way Sewick points out that the leaders of Detroit (today, as then) were primarily concerned with wringing the most profit in the shortest time, and a plan that had unusual lot shapes and wide roads stood in the way of that.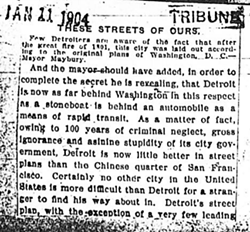 And yet, less then a century after the abandonment of Woodward's Plan, at least one Detroiter condemned the chaos of a street grid fueled by exigency and accretion in accordance with developers and industrialists. Though he is unnamed, in January 1904 an editorialist for the
Detroit Tribune
made fun of Mayor William C. Maybury's erroneous assertion about the Woodward Plan, declaring that "no other city in the United States is more difficult than Detroit for a stranger to find his way about in."
To this end, perhaps fans of Sewick's work might enjoy a video that's making the rounds on social networking today. It includes snapshot versions of the information Sewick delves into, and helps bring those curious for the rest of the story up to date (at least for 1960). The film is called
Detroit's Pattern of Growth
, a very simple film created by
Robert J. Goodman
and Gordon W. Draper. of Wayne State University. It's available
in color
, but unfortunately, the transfer has warbling audio that may irritate some, so
the black-and-white version
may be preferred. It's worth it to hear that old-fashioned pronunciation of Gratiot, GRAH-zhit.