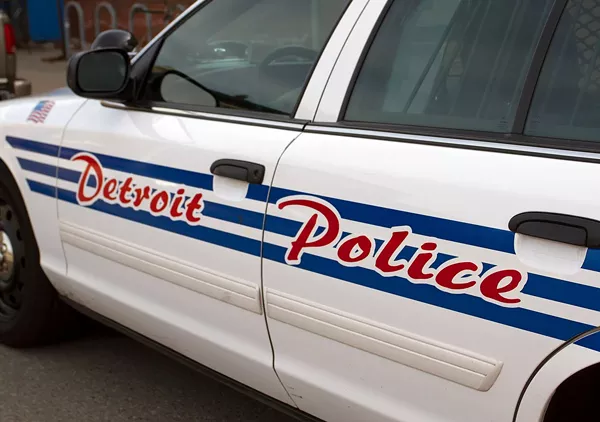 Detroit Police
Chief James Craig announced
Tuesday that a second Detroit Police officer has been terminated following a racially insensitive Snapchat post. Both an internal investigation and environmental audit were launched immediately following the post which resulted in the
firing of Corporal Gary Steele just last month.
Officer Michael Garrison, who had served 18.5 years with the department, is the latest to be fired from Detroit's Sixth Precinct this year and the second to be terminated following a Snapchat post during which Garrison can be heard making racially insensitive comments in a video shared to Steele's account.
The video,
posted in January
, followed a routine traffic stop during which 23-year-old Ariel Moore walked home in frigid temperatures after being pulled over for expired license plate tabs. Steele posted the video using in-app captions, "What black girl magic looks like" and "Celebrating Black History Month." Both Garrison and Steele made comments such as "Bye Felicia" and "walk of shame." Moore is black.
During what Chief Craig called a "disjointed" briefing Tuesday morning, he revealed that the internal investigation into Garrison's case turned up 11 allegations against Garrison and span four categories: "conduct unbecoming," "failure to report misconduct," "providing false information during an investigation," and "neglect of duty."
In addition to using racially insensitive terms such as "Kieshas," "Jakes," and "homeys," in reference to African Americans and, in one instance, "Lil Al-Quaeda." One allegation raised during testimony cited Garrison's refusal to assist a black pedestrian who appeared to be carrying groceries in freezing winter temperatures. The allegation asserts that earlier in the day, Garrison had willingly offered a ride to a white man.
"Based on the totality of what has occurred, I also looked into prior misconduct by Officer Garrison," Chief Craig said. "In April of 2014, Officer Garrison was fired by a trial board."
During that review, Garrison faced a 2-day arbitration following accusations of unjustified or careless use of a firearm or weapon as well as accounts of making false oral or written reports. Chief Craig says the city entered into a plea agreement which resulted in Garrison being restored to the department following a 60-day suspension.
While the environmental audit remains separate from Steele and Garrison's individual internal affairs investigation, Chief Craig hopes that its findings will act as a "template" and training tool to assist management-level staff to better outline behavioral expectations and action that should be taken should they encounter misconduct.
"I didn't see any sense of remorse, certainly, no apology was made for his conduct," Craig said of Garrison's most recent misconduct charges. "What I found interesting several times during the hearing, he did appear to look at me in a very distaining way and that was about it."
Stay on top of Detroit news and views. Sign up for our weekly issue newsletter delivered each Wednesday.