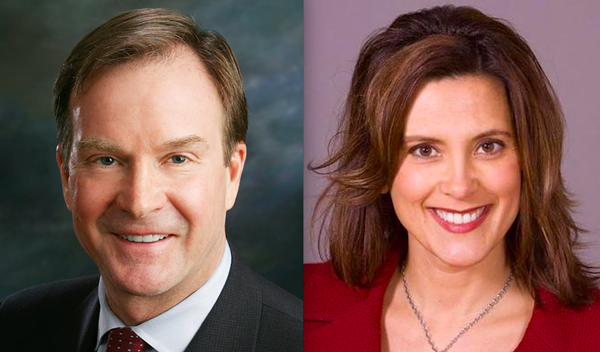 Democrat Gretchen Whitmer and Republican Bill Schuette will face off in the general election for Michigan governor in November.
The candidates each won their respective party primaries Tuesday, after polls consistently showed them leading their opponents in the run up to the election.
The AP called the Democratic race around 10 p.m., as Whitmer led with 50 percent of the vote to former Detroit Health Director Abdul El-Sayed's 34 percent. Businessman Shri Thanedar trailed with 15 percent.
Whitmer, a former state lawmaker who climbed the ranks to become Senate minority leader, campaigned heavily on issues that could generate bipartisan consensus, like fixing the state's roads. Businessman Shri Thanedar and former Detroit health director Abdul El-Sayed ran on platforms that included single-payer health care, and in El-Sayed's case, free basic water service.
In a victory speech from Motor City Casino, she appeared to reference the divided state of the Democratic Party, calling on El-Sayed and Thanedar supporters to unify in the fight against Schuette.
"This is a big tent, join us, come on in side, because government works best when passionate people participate, when we debate ideas, and roll up our sleeves," Whitmer said.
On the Republican side, Schuette was declared the winner with just 17 percent of precincts reporting. At 10 p.m., he was leading Lieutenant Governor Brian Calley by 27 points, with 51 percent of the vote to Calley's 24 percent. State Sen. Patrick Colbeck and businessman Jim Hines were at 14 percent and 10 percent, respectively.
Schuette had received the endorsement of President Donald Trump.
At a victory party from his native Midland, Michigan, the now-Republican gubernatorial nominee briefly touched on his platform of "more jobs, greater growth, and bigger pay checks," before pivoting to attack his Democratic opponent.
Schuette called on Republicans to unite against Whitmer's "job-killing, tax-hiking, extreme agenda." He described his rival as "one of the architects of the Granholm policies that led to the lost decade" and said Whitmer "would take us back to a time of shuttered industry, dashed dreams."
Stay on top of Detroit news and views. Sign up for our weekly issue newsletter delivered each Wednesday.