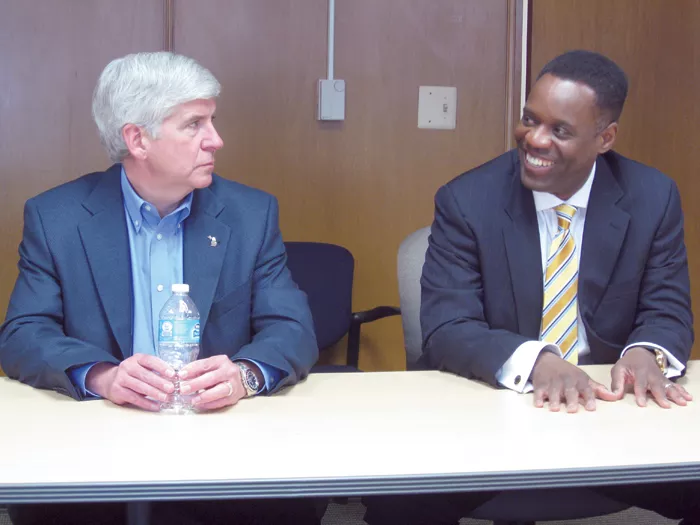 So many people came to view oral arguments in a federal case challenging the constitutionality of Michigan's emergency manager law last week that the presiding judge George Caram Steeh decided to move to a larger courtroom.
As a reporter for The Detroit News observed, the hearing at the U.S. District Court in Detroit "drew a crowd of nearly 100 union members, retirees, activists, residents and employees." The News and other media covering the hearing failed to point out just how rambunctious the crowd was. As Steeh entered the courtroom and spectators rose, they held to their chests copies of the recent Metro Times issue featuring our cover story titled "Anatomy of a Takeover," about the EM law and Detroit's bankruptcy. That action drew an admonishment from one of the U.S. marshals assigned to ensure order in the court.
Despite this intense public interest in a law that's unprecedented in its scope, Gov. Rick Snyder, Attorney General Bill Schuette, and Detroit Emergency Manager Kevyn Orr have done all they can to keep the court from weighing in on Public Act 436.
The obstruction began after the city filed for bankruptcy last year. Instead of allowing two federal challenges to Public Act 436 to run their course, lawyers representing Detroit asked U.S. Bankruptcy Judge Steven Rhodes to put the cases on hold until after the bankruptcy issue was settled. Rhodes initially agreed, but then lifted the stay in one of the cases because it included plaintiffs from around the state.
A second case, brought by the Detroit branch of the NAACP, remains on hold.
It is apparently of little concern to our governor and attorney general that residents of other municipalities and school districts across the state that are also under emergency management have been denied their day in court just because Detroit is in bankruptcy. The same goes for EM Orr. Six times they've spent tax dollars filing motions in various courts in what has proved a futile attempt to keep Judge Steeh from hearing this case.
The law, formally known as Public Act 436, breaks new ground. Nobody disputes that, although the attorney representing the state in court last week, Michael Murphy, tried to downplay that aspect at times.
Even Murphy, however, admitted that the law is "unique."
What makes it so is the unprecedented authority it places in the hands of unelected emergency managers. These appointees can ignore provisions in city charters and local laws already on the books, create new laws by fiat, break collective bargaining agreements, and sell off public assets.
They can also dictate exactly how much — or how little — duly elected mayors and City Council members have in cities under their control. In Benton Harbor, for example, the emergency manager there told the City Council it had the authority to call meetings to order, approve the minutes of the previous meeting, and close the meeting. That was it. They could do absolutely nothing else.
That denial of elected local representation is one of the key aspects to the challenge.
Murphy, the state's attorney, brushed that concern aside during last week's hearing, which was being held to determine whether Judge Steeh will allow the case to move forward.
Facing a team of five lawyers on his own, Murphy didn't appear to be a very happy barrister. However strong his case might be, with his opponents in the position of fighting an uphill battle in their attempts to have a court strike the law down, it was Murphy who seemed to be facing the more difficult challenge in trying to convince Steeh that there was no plausible reason for even considering the constitutionality of this highly controversial law.
Take the issue of voting rights, which the challengers point out have been denied to people living under emergency management.
Murphy argued that claim is demonstrably false. No one, he said, has been denied the right to vote. The fact that those elected officials might have zero power, well, that's not the same as keeping people from actually voting.
Which raises a poignant philosophical question: If a vote has no practical effect, is it really a vote?
The larger issue, however, has to do with the state's sovereign power. Because municipalities and school districts are really creations of the state, and they exist only because the state allows them to, does that mean the state can essentially do whatever it wants — including denying residents of local elected representation?
In Murphy's view, desperate times call for desperate measures.
"It's not only a unique statute," the attorney argued. "It's a unique time that requires unique solutions."
The fact that Michigan and every other state in America was able to make it through the Great Depression without taking away the authority of local elected officials and placing all power in the hands of what critics are calling an "emergency dictator" is worth noting as attempts are made to continue grappling with the financial fallout of the Great Recession that began in 2007, pushing a number of local entities to the brink of fiscal collapse.
And how strange it is to hear echoes of Malcolm X and his "by any means necessary" philosophy coming from the mouths of those trying to justify PA 436. Adding even more irony to that is that another basis for challenging the law is the fact that it has been primarily applied to cities and school districts with a majority of African-American residents.
As a result of this law, more than half of Michigan's African-American population is living under emergency management, state-imposed consent decrees, or financial advisory boards (which are put in place, with a high degree of control over local decision-making after emergency managers leave office).
Whether the law is being applied equally, or is being used in a manner that discriminates on the basis of race and class is one of the issues the court is being asked to decide.
Taken all together, critics of PA 436 say there's no doubt what the answer should be.
"The law is blatantly unconstitutional," contends attorney Julie Hurwitz of the National Lawyers Guild, which is one of the representatives of plaintiffs in the case. At issue is an attack on due process, free speech issues, and the Voting Rights Act. The law, it is alleged in the suit seeking to have it overturned, even violates the 13th Amendment, which outlawed slavery.
"The stigma of PA 436 is that African-Americans are incapable of self-government," says attorney Herb Sanders, another member of the team representing plaintiffs in the case. "I submit that the denial of the right to vote through the exercise and implementation of PA 436 is to impose the badge and incidents of slavery."
For Murphy, though, none of those allegations represents a "plausible" issue. In that sense, he's like a traffic cop at the scene of an accident, telling people to keep moving because there's nothing for them to see.
Instead, Murphy argued, this is really just a monetary issue. If a city is on unstable financial ground, then the appointment of an EM to take control is both justifiable and legal.
"The analysis is based upon money, not the color of the community," he said. "The only color we're dealing with is green."
Judge Steeh said he will decide soon whether to dismiss the case or allow it to move forward.
Curt Guyette is an investigative reporter for the ACLU of Michigan. His work, which focuses on Michigan's emergency management law and open government, is funded by a grant from the Ford Foundation. You can find more of his reporting at aclumich.org/democracywatch. Contact him at 313-578-6834.