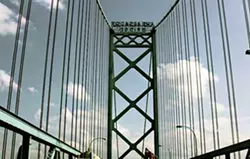 Next week, Michigan voters will make a vastly important choice, and if they choose wrong, it may cripple any attempts to revive our economy — forever.
If you vote yes on Proposal 6, you'll be selling out your state, your democracy and your constitution so that one lying, bloated, greedy billionaire can get even richer at our expense.
His name is Manuel "Matty" Moroun, and he has spent a fortune — $31 million so far — in an attempt to confuse voters into giving him the right to ruin their hopes for a brighter future and preserve his monopoly for all time.
Moroun is, most likely, the worst citizen in this state who isn't currently behind bars — and that's saying something. He's an 85-year-old slumlord whose symbol is the hulking ruins of the mammoth train station people see as they drive into Detroit from the south. Moroun and his family also own the Ambassador Bridge, the only way heavy automotive components can cross the Detroit River. 
He also owns a vast trucking empire, and his trucks get preference crossing the bridge. He makes hundreds of millions every year from diesel fuel and gasoline stations at the bridge. 
Diplomats, especially perhaps Canadians, tend to be very cautious about what they say about citizens of other countries. But monsters are different. Here's what Roy Norton, Canada's consul general in Detroit, says about the Morouns, meaning Matty, his wife, Nora, and his son, Matthew: 
In all his years in government, many of which were spent in Washington, "I saw special-interest behavior that would make you cringe. But never did I see such a comprehensive effort by one interest to bend the entire system to its will.
"The Morouns act as if, by virtue of being billionaires, they are entitled to do whatever they want ... and if you are above the law, as the Morouns seemingly think they are ... they've decided to get even." 
Getting even isn't the right term for it. The Morouns want to preserve their monopoly by any means necessary — lying, legalized bribery, endless lawsuits, you name it.
Proposal 6 would prevent any new international bridge from being built without a statewide vote. Which is a laugh, since the Morouns own enough state lawmakers to prevent any referendum from ever getting on the ballot. 
If they win, it's bad news for the rest of us. Anyone who takes any time to understand what's really going on here is apt to be blown away by the nakedness of the Moroun family's lies.
Here's the scoop: Every major corporation wants a new bridge over the Detroit River. Every politician not on the take from Matty Moroun knows a new bridge is necessary. 
The economies of Michigan and Ontario are terribly dependent on trade. Billions of dollars' worth of heavy manufacturing components cross the Ambassador Bridge every year. But it was built in 1929, and it's wearing out. 
If anything were to happen to it — say, a terrorist attack — there's no backup, and our economies would plunge into crisis. Incidentally, it takes years to build a new bridge. 
Knowing that, those who really care about our future want to build one now. The new bridge is even more important for Canada than the United States — so much so, that they've offered us one of the world's all-time sweetheart deals. 
Canada will make sure we get the bridge, free of charge. Actually, it's a much better deal than that. Canada will shell out the estimated $550 million the bridge will cost Michigan. 
Eventually, we'll pay that back to them — without interest — from our share of the tolls collected. But we get an added bonus: If Michigan accepts Canada's money, Washington will allow us to count it as federal highway matching funds. 
That means we get an extra $2.2 billion dollars from Washington to fix Michigan's crumbling roads. Obviously, our federal government knows we need a new bridge. 
But that doesn't please Moroun. He and his paid mouthpieces, Dan Stamper and Mickey Blashfield, are capable of saying in the same sentence that a new bridge isn't needed — and that they want to build another one, right next to theirs. 
Idiots who have been fooled by them sometimes say, "Yeah, why not let them build it? Private enterprise is better." 
But there are a few small problems. The Morouns don't own enough necessary land on either side of the border. Plus, there's no way Canada would or should let him twin his bridge. It would be a logistical and environmental disaster. 
Heavy trucks crossing the Ambassador now face 16 traffic lights and horrendous backups before ever making it to the freeway. 
That's another reason a new bridge is needed. Gov. Rick Snyder tried to secure legislative approval — but Moroun paid off key committee heads in the form of "campaign contributions" and other donations. The governor couldn't even get the Legislature to take a vote. But Snyder found a legal way to circumvent Moroun and struck a deal with Canada. 
The two governments agreed on a New International Trade Crossing two miles downriver. Besides the other benefits, the NITC will create at least 10,000 good-paying jobs, many of them permanent ones. Enraged, Moroun shelled out millions to canvassers to collect enough signatures to get Proposal 6 on the ballot. Since then, he's coughed up roughly another $31 million, mainly for incessant TV ads that are nonstop lies. 
"You should believe nothing said in those ads," Norton said, correctly. "None of what they say is true. None of it. These ads are an insult to the people of Canada, which is why I'm so active in speaking out. 
"These ads, it's worth remembering, are paid for by the same scoundrels who reneged for six years on the Gateway project, designed to improve U.S. access to their bridge, taking the people of Michigan for a $230 million ride." 
Gateway, remember, only got done after a judge threw Matty Moroun in jail last winter, took the project away from the Morouns, and made them pay the state to get it done right. Some people really are bad to the bone. 
Can Michigan voters be so stupid as to sign their rights and their hope for a better future away to this gang? 
The answer is entirely up to you.
High Noon in the library stacks: Thanks to the current Supreme Court's reading of the Second Amendment, and millions of morons who cling to their weapons the way a baby does his blanket, we live in an age of insane gun worship. 
That means a never-ending series of entirely predictable atrocities, from the losers who murder their children, to the creature who shot up the theater in Colorado last summer. 
Yet this wasn't enough for two judges on the Michigan Court of Appeals. Last week, Henry Saad and his comrade Jane Beckering ruled that Lansing's Capitol Area District Library could not continue to ask people carrying guns to leave. 
Why? Well, they said Michigan law says that local units of government aren't allowed to set different firearms rules. There was one dissenter: Judge Elizabeth Gleicher, long one of the brighter lights in the Michigan judiciary, who said the law her colleagues cited doesn't even apply to district libraries. 
But common sense wasn't what her conservative colleagues had any interest in. As Brian Dickerson of the Detroit Free Press observed, "My problem isn't that (they) have decided to enforce a law I don't like; my problem is that they don't seem to have read the law they're claiming to uphold."
Jack Lessenberry opines weekly for Metro Times. Send comments to [email protected]