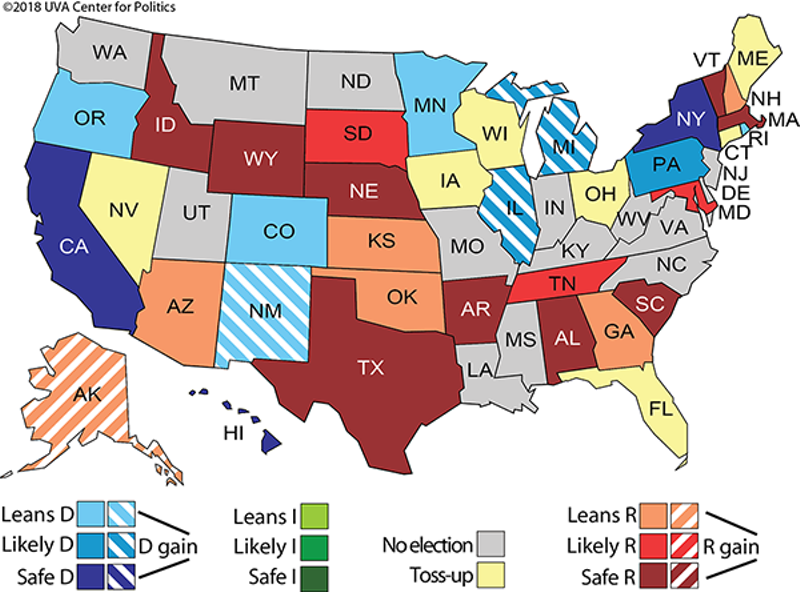 Of course, it's not over until it's over, but those of us fearful of a Bill Schuette governorship should take comfort that things are looking pretty good for Michigan Democratic candidate Gretchen Whitmer. Election forecaster
Sabato's Crystal Ball
has shifted its prediction
for Michigan's gubernatorial race from "Toss-Up" to "Likely Democratic."
Sabato's
writes:
As soon as Donald Trump won the White House, Republicans knew that holding the Michigan governor's race would be a slog. Yes, Trump carried the Wolverine State, but the usual midterm trend against the White House combined with fatigue over eight years of total GOP control at the statewide level gave Democrats a good opportunity in the state. After the general election matchup between state Attorney General Bill Schuette (R) and former state Senate Minority Leader Gretchen Whitmer (D) was set last month, we wanted to wait and see how the dust settled. Now that it has, and Whitmer has led every poll we've seen (often by double-digits), and we just don't see what changes those numbers dramatically in the GOP's favor in the last month and a half of the campaign. We're moving Michigan from Toss-up all the way to Likely Democratic, matching our rating in the state's Senate race. We've heard from several sources that the GOP position in Michigan is poor, giving the Democrats a good chance not just to win the governor's race but also make up ground in the state's U.S. House delegation.

With this ratings change in Michigan, we now favor the Democrats in three of the six Midwest gubernatorial races (Illinois and Minnesota are the other two), and the other three (Iowa, Ohio, and Wisconsin) are Toss-ups. Of those three, the Republican nominee is probably only ahead in one of them, Ohio, where state Attorney General Mike DeWine (R) appears to retain a small lead over former Consumer Financial Protection Bureau Director Richard Cordray (D), although that lead is probably only a few points. The Midwest, always swingy and competitive, may break for the Democrats in 2018 after breaking for the Republicans in 2016.
With that said,
Sabato's
is predicting three Republican-held governorships to flip blue, including Michigan, Illinois, and New Mexico.
This news comes following a bad run for Schuette lately, who has failed to earn outgoing Gov. Rick Snyder's endorsement; other
prominent Republicans
announced they would throw their support behind Whitmer instead. Earlier this week, Founders Brewing Co.
announced
it was withdrawing from the Grand Rapids Chamber of Commerce after it endorsed Schuette, citing Schuette's anti-LGBT record as attorney general.
Of course, if there's anything we learned about 2016, it's to take polls with a grain of salt. Sabato's was
dead-wrong
about the last presidential election, incorrectly predicting Hillary Clinton would win Michigan. In fact,
more people voted for "nobody"
than either Trump or Clinton. Remember to vote, ya'll.
Stay on top of Detroit news and views. Sign up for our weekly issue newsletter delivered each Wednesday.