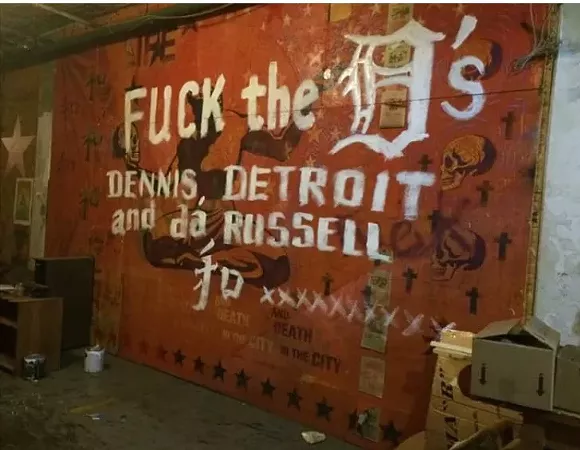 Russell Industrial Center tenants left scrambling following this week's evictions are not the first occupants of a Dennis Kefallinos-owned building to have their lives upended because the real estate mogul's development company failed to comply with city regulations.
The more than 140 artists and small business owners who occupy the sprawling complex along I-75 were told by the city to vacate early this week because of unsafe conditions. At issue were walls made of combustible materials and illegally installed heating and plumbing systems. The city said the operators of the Russell had also failed to obtain proper permits to construct commercial and residential units.
It's a familiar story for former residents of the Kefallinos-owned Universal Lofts in New Center, who a little over four years ago were evicted because developers had not obtained a certificate of occupancy for the building. The case is part of a class action lawsuit filed on behalf of tenants at ten of Kefallinos' other loft-style properties.
"It was the most stressful thing I have experienced. I was working one job and an internship, barely making ends meet," recalled Rebekah Warner, who was in her final semester of college when she was forced to suddenly move. "When you aren't sure where you will live in two weeks, it is impossible to think of anything else."
Hundreds more people living in buildings owned by Kefallinos could be at risk of having to confront the same ordeal. According to the response to a 2014 Freedom of Information Act filed by the firm representing tenants at the 11 properties, there were no records of certificates of occupancy at ten of them. The properties include the John R Apartments and the Hudson, Brooklyn, River Park, Lafayette and Milwaukee Park Lofts. Lawyers with the Oliver Law Group, the firm behind the suit, say some units have been brought into compliance since 2014, but some still don't have proper permits.
Kefallinos' Boydell Development did not reply to a request for comment, nor did the lawyer representing Kefallinos and his companies in the suit. Detroit's Building, Safety Engineering and Environmental Department did not provide documentation to show how many units at the properties have been brought up to code.

Certificates of Occupancy are granted when a unit passes things like plumbing, electrical and general safety inspections. They're "required as a means to enforce health and safety standards," says Adam Miller with Oliver Law. Without them, he says, "Detroit residents [are] put at risk."
Safety is a top concern for John R Apartments resident Michael Byrd, 54, who has lived in the building just south of Midtown for three years. He says move-ins have been halted by a judge's order because lead levels in the building are too high. And he blames the death of an elderly tenant on a lack of working elevators; the man had a heart attack in his apartment after walking up five flights of stairs.
But Byrd says not only is the building unsafe, its management team is unresponsive.
"The response anytime you try to get some repairs done is 'you're not obligated to live here, it's a month-to-month lease,'" said Byrd. "These are systematic slum landlord tactics."
Residents of Kefallinos' other properties have echoed that complaint on a Reddit page called "Boydell Development Hell." Other tenants mounted a boycott effort after the evictions at Universal Lofts.

Those who stay in the apartments, however, say they don't believe they should be forced out by what they call bad management. Byrd stays, in part, because he says it's too costly and difficult for him to move. Kefallinos-owned properties tend to lease for less than their neighboring better-managed counterparts. Byrd pays $600 a month in rent, while former Universal Lofts tenant, Kayla Clermont, says she moved in for $750 a month and couldn't find anything in the city for under $1100 after she was evicted. She now lives in the suburbs and commutes to her job downtown.
Rent at the Russell was relatively cheap, too.
"You get what you pay for," said Kory Trinks, who uses a unit at the complex to store several tons of vintage clothes for her boutique.
Trinks says the heat in her unit never worked and that broken windows were never replaced. The building's elevator also broke down shortly after she moved in, forcing her to haul much of her inventory up several flights of stairs. The lift has still not been repaired, and Trinks has had to hire a team of people to help get her stuff out by a Tuesday deadline imposed by the city.
As she struggles through the transition, Trinks wonders whether there's a better approach to ensuring the safety of people who occupy structures throughout Detroit.
"We're victims as the tenants and we're taking the hardest hit," she said. "[Kefallinos] put all of us in jeopardy of being harmed. It's not fair that we all have to scramble to pack up and move out, but it would also be terrible if a fire did happen and the city hadn't gotten everyone out."
But an operations manager at the Russell says the city has gone overboard by forcing the complex to shut down.
"We've had fire inspectors in here before, building inspectors in here before, and so to suddenly come in and say you're not in compliance and vacate us, it's mind boggling," said Eric Novack. "And it's all stuff that we can remedy while we're open."
Novack says Russell management has begun work to bring the complex into compliance with city regulations. Tenant Mark Arminski says he's seen people making repairs since the eviction notices were posted on Monday and Tuesday.
But if the facility can't keep open its doors, another lawsuit against Kefallinos could be in the works.
Metro Times
overheard tenants discussing the possibility of pursuing a class action earlier this week.