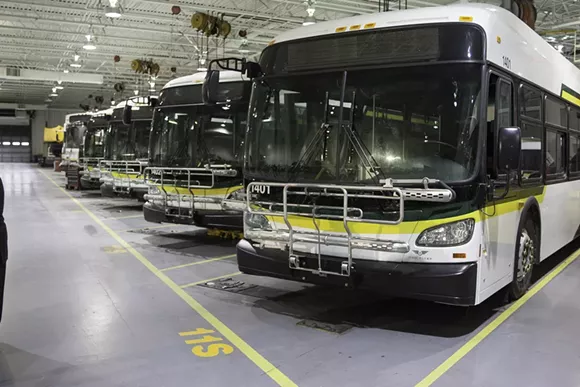 After last week's controversial
down-vote
of $4.7 billion mass transit expansion proposal by Macomb and Oakland County officials, a deal to salvage the plan was reached Tuesday by top regional leaders, according to the
Detroit Free Press.

"I do believe we have something that's going to be satisfactory to all parties," Macomb County Executive Mark Hackel, who has been a vocal detractor of the 20-year plan, told the paper. "I do believe we have come up with a legitimate document for voters to decide on."
While Hackel confirmed to the paper that a compromise had been struck, immediate details around such a deal have yet to be revealed.
Last Thursday the plan for mass transit was put to a vote by the Regional Transit Authority of Southeast Michigan board; however, Oakland and Macomb County board members (appointees of Hackel and Oakland County Executive L. Brooks Patterson) shot it down. Without approval from these two counties the proposal was unable to progress forward and be added to the November ballot.
The expected
— but still ire provoking — rebuff from Oakland and Macomb County last week meant those invested in the plan had less than two weeks to reach some sort of compromise to get the millage measure to voters.
According to the
Detroit Free Press
representatives from Detroit, Wayne County, Oakland County, Macomb County and Washtenaw County met Tuesday afternoon at the Detroit Athletic Club to hash out a deal.
"I am satisfied that the accord we reached today not only offers something for our 40 communities and over half a million residents previously left out of the transit plan, but also incorporates the necessary protections we were seeking for Oakland County taxpayers,"
Patterson
, who the
New Yorker
has described as a "Suburban Kingpin who is thriving off the city's decline," said in a news release Tuesday. "I'm grateful to my regional counterparts who joined me in moving forward."
Patterson — who started a
$1 billion, multi-decade renovation of the I-75 highway
this week (#cars) — and Hackle were criticized by many activists and pro-transit supporters over the course of the last week for keeping the region behind the times.
Southeast Michigan's public transit system has long been considered behind the times —
according to A Coalition for Transit (ACT) less than a quarter of jobs in Southeast Michigan can currently be reached in 90 minutes using public transit
—and this initiative has been viewed as a step to modernize, update and equalize.
"This regional transit plan will bring not only independence and opportunity for people all over southeast Michigan, but it will allow us to compete with metropolitan areas across the country for development and investment," Mayor Mike Duggan said in a statement Tuesday.
"This agreement also signifies that our region is starting to move beyond a half century of infighting that has served only to divide us and hold southeast Michigan back."