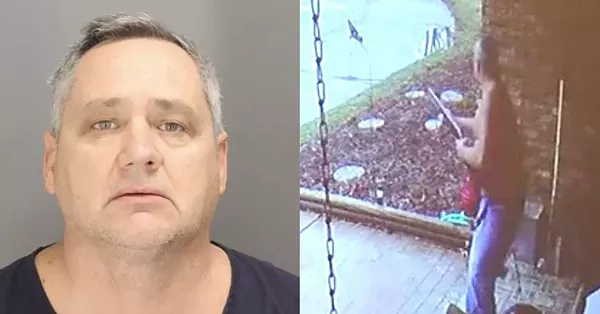 Jeffrey Zeigler, the white former Detroit firefighter who fired a shotgun at a lost black teenager, was sentenced to 4 to 10 years of prison on Tuesday morning.
In April, a black 14-year-old Rochester Hills student knocked on the door of Zeigler's Rochester Hills home after missing his school bus. Zeigler responded with a shotgun blast.
The 53-year-old initially told officials he woke up to his wife screaming about someone trying to break into their home and said he slipped and the gun accidentally discharged. However, Zeigler's own
home surveillance video
showed a different story: the teen, wearing a backpack, is shown knocking on the door and patiently waiting for a response. He then bolts after Zeigler appears with a gun in his hands, who appears in the footage deliberately aiming and firing at the unarmed boy as he runs away.
Fortunately, the teen was not shot. But last month,
a jury convicted
Zeigler of assault with intent to do great bodily harm and possession of a firearm in the commission of a felony.
Rochester Hills Michigan 6 months ago.

The surveillance footage was just released.

14 y/o Black Teen misses the bus to school & figures he knew the route well enough to walk the 4-mile route. He gets lost, stops to ask for directions, & nearly loses his life.

WHY WE KNEEL! pic.twitter.com/k3cnL3kO6u

— StanceGrounded (@_SJPeace_) October 11, 2018
Stay on top of Detroit news and views. Sign up for our weekly issue newsletter delivered each Wednesday.