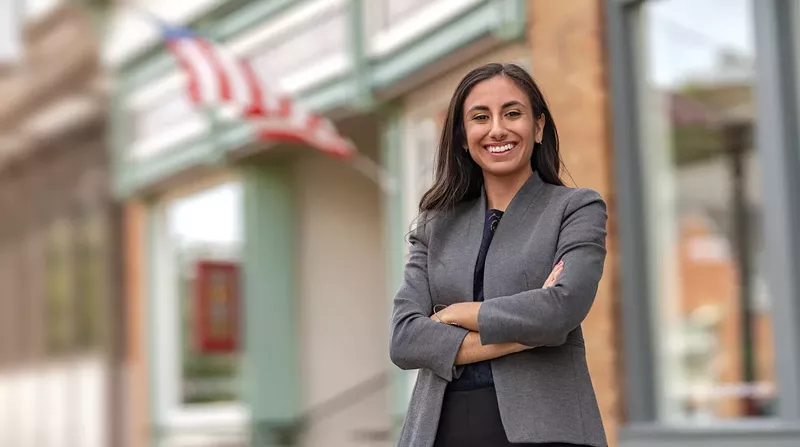 State Rep. Mari Manoogian, the youngest woman serving in Michigan's Legislature, was one of 17 "rising stars" picked to deliver a keynote address at the Democratic National Convention.
The 27-year-old Birmingham lawmaker delivered her speech Tuesday, saying Joe Biden is dedicated to unifying the country and has the leadership skills to steer the U.S. in the right direction.
"Joe knows we can never let hard times turn us against each other," Manoogian said. She added, "He understands that leadership means fighting for the people who built this country."
Manoogian pointed to Biden's role in helping save the domestic auto industry in 2009 under a restructuring plan with General Motors and Chrysler.
"When the auto industry was going under, Joe stuck his neck out to protect it and helped save 1.5 million auto jobs," Manoogian said.
Manoogian, an Armenian American, flipped a historically Republican seat in 2018, winning the 40th District with 56.5% of the vote. The district covers Birmingham, Bloomfield Hills, Bloomfield Township, and a portion of West Bloomfield Township.
Before the address, Manoogian said "so much is on the line."
"Donald Trump has grossly mishandled the pandemic and tens of thousands of Michigan businesses and workers are paying the price," Manoogian said in a news release. "We have a chance to change the trajectory of our country this fall, and I'm going to do everything in my power to ensure that every Michigander knows why we need to elect Joe Biden and Kamala Harris."
Former Michigan Gov. Jim Blanchard said he was excited that Manoogian was selected to speak.
"Mari is a breath of fresh air and a natural leader when good leaders are so desperately needed given the challenges of today's world," he said.
Stay on top of Detroit news and views. Sign up for our weekly issue newsletter delivered each Wednesday.