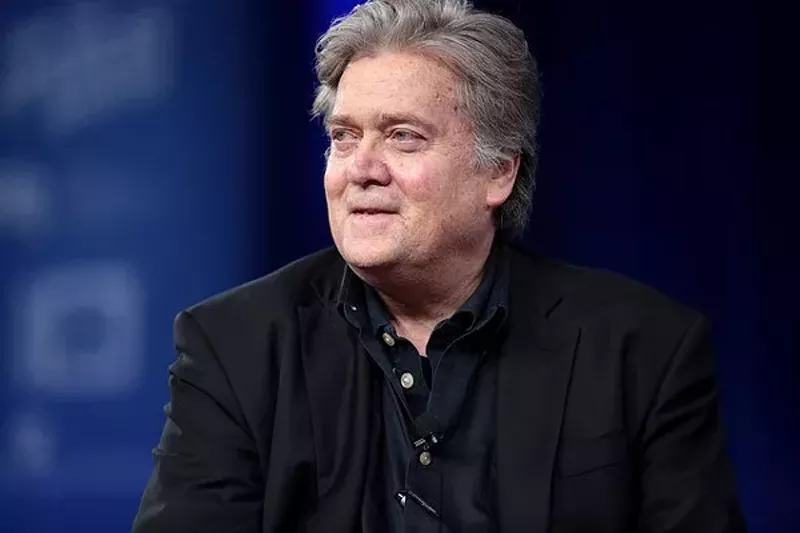 Steve Bannon, former White House Chief Strategist and former executive of
Breitbart News
, continues to use his ill-gotten celebrity to push fearmongering right-wing rhetoric — this time in Warren.
All three of these far-right figures will be attending a
'We Build the Wall' event
on Thursday, March 14 in Warren. The town hall-style meeting will be held in response to the national emergency that Trump declared on Feb. 15. The hotly debated declaration would set a new precedent, allowing future presidents to bypass Congress to fund projects deemed an "emergency." In this particular case, that would be
siphoning money
from the military construction budget, Department of Treasury asset forfeitures, and funding from the Department of Defense for drug interdiction.
Last week, the House passed a disapproval resolution. The Senate is anticipated to follow suit, which if passed, is likely to result in Trump's first veto as president.
The event, organized by We Build the Wall, Inc., is made up of private citizens intent on using donated funds to build a wall along the U.S.-Mexico border.
According to the organization
, "American citizens in the private sector are better equipped than our own government to use the donated funds to build an actual wall on the southern border."
The organization's founder,
Brian Kolfage, believes
that "[t]oo many Americans have been murdered by illegal aliens and too many illegals are taking advantage of the United States taxpayers with no means of ever contributing to our society."
A report published by
Immigration and Customs Enforcement (ICE)
details that there were 2,028 pending criminal homicide charges and convictions made for illegal aliens arrested during the 2018 fiscal year.
The organization also believes that the private sector is capable of building a wall along the U.S.-Mexico border at less cost and in a shorter amount of time than the federal government. The organization supports the wall as a form of anti-immigration policy, contrary to data compiled by the Department of Homeland Security that suggests 408,000 illegal aliens were apprehended at the Southwestern border in 2016 —
a decrease from the estimated 1.6 million
illegal entries that occurred in 2000. The support for the wall is also contrary to evidence that suggests that most immigrants legally enter the United States but remain
after their visas have expired
.
The
event's ticketing page states
that the event is free for supporters of the wall only and reserves the right to remove anyone at any time and for any reason. The organization is sponsored by Michigan Conservative Union, One American News Network (
OANN
), and the Gateway Pundit.
Stay on top of Detroit news and views. Sign up for our weekly issue newsletter delivered each Wednesday.