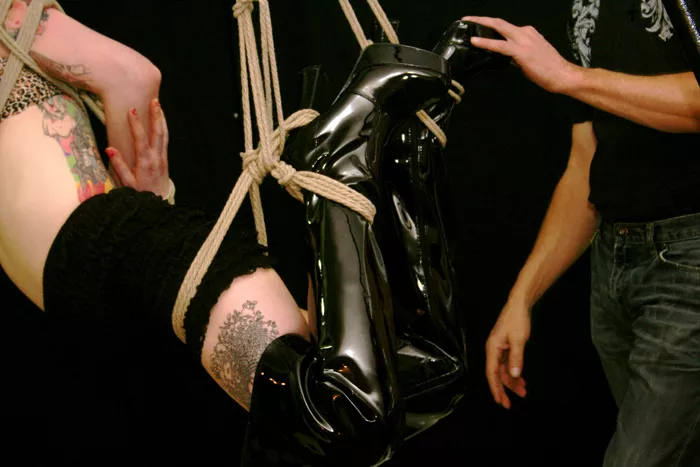 This guy Rigger Lucas meets us at a Ferndale bar, looking like a normal fortysomething working stiff, lanky and lean with an all-American brush-cut. He blends in with the after-work crowd while the jukebox blasts out classic rock and Motown. It's a very ordinary scene.
What is extraordinary is the reason we're here: to discuss his pastime and art, tying up women. Lucas is a "roper" and "rigger" who has spent years mastering the art, learning how to suspend his bound subjects in the air. He regularly travels to events around the Midwest displaying his skills, roping and rigging the "bunnies" who volunteer. When he's at work with a submissive, there is an intensity on his face like a lion tamer. (He explains that "one mistake could turn somebody into a paraplegic.") But tonight that face crinkles into a friendly smile, where he's kindly agreed to tell us all about it.
MT: How do you get into roping?
Rigger Lucas: Well, I've always been a dominant, alpha male my whole life. At first, I was never into rope. I thought it was too tedious, I thought it took too long. It looked boring to me. But when I watched a couple of my friends actually do the rigging and the roping, I saw the interaction between them and what we call "the bunnies," and the space that they went into, and I wanted to go there. I found a very good teacher, and he was the basic catalyst for teaching me how to rope. And it's just kind of unfolded and grown from there, and I love it.
MT: Usually BDSM conjures images of pain, punishment, humiliation. And yet there's something artful and almost acrobatic in the images I've seen of your work.
Lucas: When I do the events, I do consider it performance and art. I don't consider it BDSM. Do I mix BDSM in? Yes, I do. But I do consider it an art form, and that's what a lot of the people who see it are attracted to. No two ways around it. It's something to see, to witness.
MT: Your average person might not see it that way.
Lucas: Yeah, there are a lot of people turned off by BDSM. There's a fine line between abuse and BDSM, and that's called consent. If there's a situation where there's not consent from the submissive, bottom or slave, then it's abuse. We have a thing called "hard limits." That's what I get first from submissives when I come into contact with them. "What are your hard limits?" A big hard limit is permanent marks: I'm not going to permanently mark someone on purpose if that's one of their hard limits.
MT: Nobody wants permanent marks.
Lucas: A lot of people are freaked out about that, because rope does leave marks. I've had rope leave marks on bunnies for a week, a couple hours, and that's it. It depends on how tight the rope is, what they do while roped, their movements and force and fighting will cause the marks to be deeper and more prominent. And I think that's a big turn-off for a lot of people.
MT: No wonder you look so focused during a performance.
Lucas: I had an experience at my last performance where somebody actually walked into my performance and placed his hands on my bunny. Very dangerous. It's something where I have their life and their safety in my hands. I have to have that concentration. The damage to the bunny can last a lifetime if I'm not careful. Nerve damage, loss of circulation, a multitude of things. And there are so many things I need to know before I rope a bunny.
MT: Like what?
Lucas: If they've got a hip issue, if they've already got nerve damage, if they have a shoulder issue. I want to know if they're diabetic, if they have any vertigo problems. I want to know any health problems they may have.
MT: [laughs] Sounds almost like a yoga instructor grilling a student before the first class.
Lucas: Yup. I have suspended people that were crippled, that have severe diabetes, which is dangerous. And the trust that they placed in me to do that suspension was phenomenal, and I respect that. Probably my most fulfilling rope suspension was a man in Toronto. This man had actually died twice, was confined to a wheelchair, was bedridden for 10 years, and had been through eight years of therapy to get the use of his right arm, which he couldn't move any more than four inches from his chest, or above the bottom of his breast. He stayed in it for about 40 minutes, and the only reason he got out was because the event was closing. When we were done, he could move his arm at least a foot away from his chest and above his eyes.
MT: How do you find a bunny?
Lucas: There's lots of them out there. [laughs] It's all in who you talk to. I've gone into restaurants and 99 times out of 100 I can pick a submissive out of a room within 30 seconds. Just their demeanor, the way they handle themselves. And it's a topic I'm not afraid to broach. I'm not shy. [laughs]
MT: I think puritanical people would be surprised to hear you talk so much about connection, emotions, all these things. Most people would think it's just masochists and sadists acting out.
Lucas: I don't always label myself a sadist. I am a sadist. I'm very sadistic! [laughs] But I don't always label myself as that. But that's part of the connection, when a masochist finds a sadist. That's what draws us together.
MT: Sounds like you certainly have to get to know somebody and feel safe with them for this to happen.
Lucas: Trust is a huge issue. For both of us, not just for the bottom or masochist, but it's also a big trust issue for me.
MT: How is that possible?
Lucas: They can walk out my door and go straight to the police station. I have to be able to trust that they're not going to do that.

MT: Oh, right ...