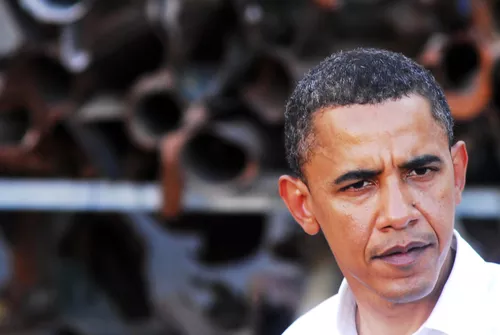 Way back in the days of Ronald Reagan, I was once invited to the White House for lunch. Not just me, of course, but a group of mostly Midwestern newspaper types.
Privately and politically, I was always opposed to almost everything Reagan stood for, and voted against him every chance I got. But it never would have occurred to me to pass up a chance to talk with the president of the United States.
No matter who it was. Yet incredibly, today's Republicans, who like to wrap themselves in the cloak of patriotism, don't feel the same way. Last Friday, President Barack Obama came to Michigan State University on bipartisan business; he came to sign the just-passed farm bill, which sets policy for a decade.
His coming here was a tribute to Debbie Stabenow, chair of the U.S. Senate Agriculture committee. After two years of patiently working like a demon, she managed to get this vastly important bill passed. She is a Democrat, but this was hardly a partisan triumph; it actually passed with more Republican than Democratic support, especially in the House.
Nevertheless, in a shocking insult, not a single GOP officeholder showed up to be with the president at the signing ceremony. Not Gov. Rick Snyder, not any of the Congressional delegation, not Speaker of the House John Boehner.
The White House said two dozen Republicans were invited, but not a one came. When Air Force One landed in Lansing, only Mayor Virg Bernero was there to shake the President's hand. Even I found this hard to believe.
Forget politics; this was the sort of terribly un-American act — flagrant disrespect for the presidency itself — that the GOP likes to falsely accuse Obama of doing.
Not to mention, it was stupid. There's no real political risk in being polite or even nice to the president. He can't run for re-election, ever. Both times he did, he won Michigan by lopsided majorities much greater than his national average.
He undoubtedly would do so again. Polls show most people are sick of partisan nastiness. But today's Republican officeholders are far more preoccupied with the Tea Party fanatics in their midst, and fear being "primaried" by them.
So they snub the president, lest he get some sort of bipartisan cooties on them. What this likely will mean is clear: electoral maps on the night of Nov. 8, 2016, in which the vast majority of big population states are once again blue.
Yes, indeed, they learn nothing, and forget a great deal. Not that liberals always engage in critical thinking either.
No sooner had the farm bill been passed when some denounced it because it cut money for SNAP — the Supplemental Nutrition Assistance Program, what used to be called food stamps. One commentator who actually works with the poor urged the president to veto the bill, and some accused Stabenow of selling out to the Washington establishment.
That didn't sound right to me; I remember, after all, when the senator was a legislator and a social worker.
So I took the radical step of talking to her about this. "Nobody now legitimately getting benefits is going to have those benefits cut," Stabenow told me. "I drew a line in the sand, and made it clear that there wouldn't be a farm bill at all," if they insisted on taking food assistance away from them.
However, she said, "I was willing to tackle the legitimate issues of fraud and misuse," and added, "those who need help should be at the front of the line demanding [that] abuse stop."
For example, there were several embarrassing cases of winners of large lottery prizes still collecting food assistance.
The bigger problem was people who technically qualified for SNAP because they got home heating assistance, though they didn't actually have utility bills at all.
The senator told me this knocked about 800,000 people off SNAP, the majority of whom live in New York state. True, many of these folks are facing economic difficulty regardless.
I suspect that if it had been solely up to Debbie Stabenow, many would still be getting help. But that ignores the inconvenient truth that Republicans control the U.S. House of Representatives. They originally had a version of a farm bill that completely eliminated nutrition assistance for everyone.
Given that, Stabenow and her colleagues accomplished a hell of a lot. But there's a lot more in this farm bill than the former food stamp program — and much of it is especially good for our part of the country. Stabenow told me triumphantly, "This bill has Michigan written on every page."
For one thing, it eliminates huge subsidy payments — $5 billion a year — to farmers, some of them rich, for growing nothing. It also expands the crop insurance program, where the government helps farmers with the premiums, including a lot of newly covered berry and cherry growers in Michigan.
Now, they get paid only when they have a bad crop. The bill isn't perfect; there are still a lot of protected sacred cows, including catfish farmers and sugar growers.
But it's much better than what we had before.
By the way, there is one important new benefit for those getting food assistance; their coupons are doubled when they shop at farmers markets, which will help both the farmers and help those who need it get fresh produce for their children.
Republicans have been running down Stabenow since the first time she ran for the Ingham County commission, some 40 years ago. Then she beats them, usually badly.
That's because she's a workhorse, not a show horse. They've never gotten it. Michigan voters do, however.
Which may be why food assistance survived at all.

Fair play for adoption and marriage:

LAST FALL, I told the moving story of April DeBoer and Jayne Rowse, two nurses who jointly were foster care givers to three special-needs toddlers, who were born with a variety of major problems to mothers either unwilling or unfit to care for their babies.
Nobody questioned the fitness of DeBoer and Rowse to raise these children, who might have died or never found permanent homes otherwise. Yet while either of these women could adopt these children as a single parent, the state of Michigan refuses to allow both of them to adopt them.
Why? Frankly, because of prejudice against same-sex unions, a bigotry shared by Michigan Attorney General Bill Schuette, who says it's proper for the state to "regulate sexual relationships between men and women."
Same-sex marriage is also against the law in Michigan, though that is swiftly changing in other states, and in federal law. Fortunately, there are people who don't fancy living in some kind of Orwellian world of medieval sexual morality.
The constitutionality of both Michigan's adoption code and same-sex marriage is about to go on trial, starting Feb. 25, in U.S. District Court in Detroit. A team of local attorneys are representing DeBoer and Rowse, and doing so pro bono.
But expert witnesses and court expenses cost money. Schuette is using taxpayer dollars to try to prevent any expansion of human rights here. Attorney Dana Nessel and the plaintiffs, a couple of nurses who live in Hazel Park, can't do that.
So they're having a fundraiser this Thursday, Feb. 13, a Share the Love Valentine Dinner, at Burton Manor in Livonia, and they were desperate enough to ask me to serve as emcee.
Despite that, you might want to go. After all, it's the day after Abraham Lincoln's birthday, and I have a sneaking suspicion he'd be on the side of equality.
Get details at MichiganMarriageChallenge.com.