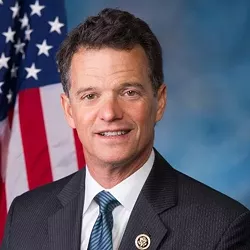 Are Republicans worst fears coming true for this upcoming election year? With only a little over a year left before November of 2018, a handful of Republicans have announced they will not seek reelection, and now that list includes Michigan Rep. Dave Trott of Birmingham.
Trott's reelection campaign would have likely been an uphill battle in his swing district, given his support for President Donald Trump's agenda. Trott supported Trump's original Muslim ban in January, agreeing that the country had to "adequately vet these refugees and ensure the safety of all Americans."
Trott also voted to repeal the Affordable Care Act, another one of Trump's failed promises from the campaign trail.
There are also rumors floating around that
Rep. Fred Upton
is also considering retirement, another district that was heavily carried Trump in the 2016 election, but is often seen as a swing district.
"Fred is very happy with his day job and very focused on the work he's doing for our region and state," Upton spokesman Tom Wilbur told the
Detroit News
. "He is exploring all of his options, but retirement is not in the cards."
Only two Democrats have stepped up to the plate to run for the soon-to-be empty District 11 seat — Haley Stevens, former chief of staff to then-President Barack Obama's Auto Task Force, and Fayrouz Saad, Detroit's former director of immigration affairs.
Republican candidates have yet to come forward for the soon-to-be empty seat.