Police say DNA evidence links the man charged with
shooting and wounding two Detroit officers
Wednesday night to the killing of Wayne State Police Sgt. Collin Rose.
Detroit Police Chief James Craig said in a Friday news conference that Raymond Durham, 60, has become the prime suspect in the Nov. 22 killing. Police had previously arrested a 31-year-old man in connection with Rose's death but dropped the charges due to
insufficient evidence
.
"We've worked very hard to get to this day," said Craig. "This does not signify closure."
WDIV, citing anonymous sources within the department, reports that
Durham's DNA was found on a flashlight and glove at the scene of Rose's killing. Rose was killed in Woodbridge, about a mile north of the area where the two Detroit police officers were shot Wednesday night. The .38 caliber revolver Durham allegedly used in that shooting has been sent in for ballistics testing. The gun used to kill Rose was never found.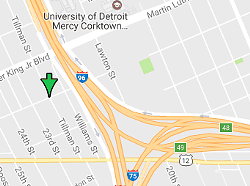 Craig said Thursday that there were
similarities
between Rose's killing and Wednesday's shooting, including the "manner" of attack. He wouldn't go into specifics.
Durham, meanwhile, has been arraigned in the hospital for this week's incident. He's charged with two counts of Assault with Intent to Murder and eight other charges that include resisting and obstructing police and possession of felony firearms. Family members have told reporters that
Durham is mentally ill
and homeless.
Craig said the two officers wounded this week were investigating possible narcotics activity on the city's West Side when they saw Durham acting "fidgety" and stopped him. Durham allegedly began to fight with the officers, then pulled a gun from his front waistband and opened fire, according to the Wayne County Prosecutor's Office. The officers fired back.
One officer who is a 20-year veteran of the Detroit Police Department was hit multiple times, according to the prosecutor's office. The other officer, a 4-year member of the department, was shot in the leg. Both men are still in the hospital but are expected to be ok.
Durham was shot multiple times and is also expected to recover. The prosecutor's office says his first court appearance is scheduled for March 24. Court records show Durham was convicted of breaking and entering in 1990 and served probation for it.