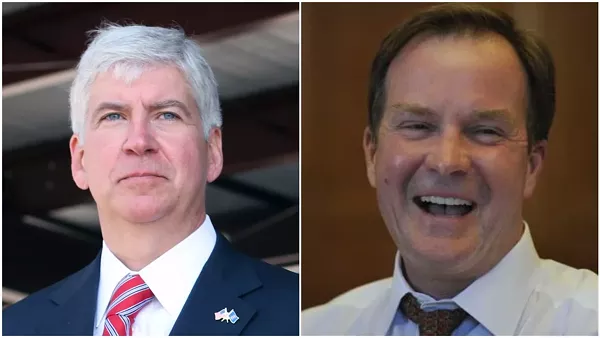 So much for party unity. It appears Governor Rick Snyder's endorsement of Republican gubernatorial candidate Bill Schuette will never come.

Snyder did not immediately endorse Schuette after he won last month's primary over Lieutenant Governor Brian Calley, but there was a chance he might have come around before Nov. 6. Now, WZZM reports that's not going to happen.

"I'm staying out of politics," Snyder told the Grand Rapids TV station. "I'm governing."
If nothing else, the governor is consistent. In the immediate days following the primary, Snyder skipped a rally meant to unite the Republican Party and get everyone behind candidate Schuette. That same day, Snyder dodged when asked if he would endorse the Republican gubernatorial nominee.
The feud between Snyder and Schuette is both personal and ideological. As Michigan's attorney general, Schuette had opposed to Snyder's call to cut off free bottled water for Flint until all lead pipes had been replaced. Despite Schutte charging members of Snyder's administration, he had not leveled charges against Snyder.
More broadly, however, the friction is also likely related to Snyder's distaste for president Trump — and Schuette's admiration for him. After receiving an endorsement from President Donald Trump, Schuette has become the most pro-Trump candidate Michigan has seen — copying the very same language as the commander-in-chief, pledging to "Make Michigan Great Again."
Snyder, meanwhile, refused to endorse Trump during his campaign for president (something Trump has said he will "never forget" when sharing the same stage with Snyder).
While he has done little to protect immigrants from ICE raids, Snyder has at least nominally been much more friendly to the immigrant community. Last year, he hosted a gala celebrating "New Americans" and the significant social and economic contributions they've made in Michigan.
Sam Corey is a Metro Times fall editorial intern.

Stay on top of Detroit news and views. Sign up for our weekly issue newsletter delivered each Wednesday.