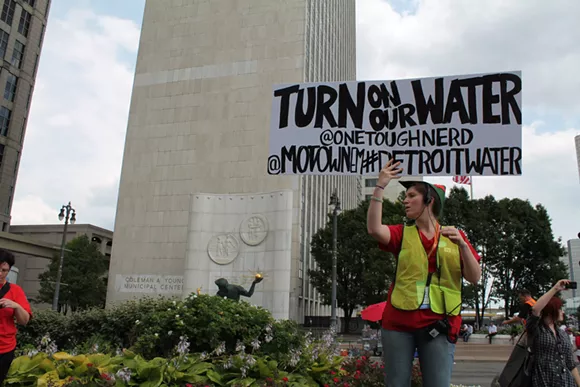 Anywhere from 26,000-28,000 residential customers in Detroit could face water shut-offs starting in May, according to a report from investigative reporter Curt Guyette at the American Civil Liberties Union of Michigan.
The report,
over at the ACLU's Democracy Watch blog
, is based off minutes of a meeting held by an advisory group for the
newly-formed Great Lakes Water Authority
that were obtained by Guyette.
[Detroit Chief Operating Officer Gary] Brown told the group that the first step is to launch a "media campaign" informing customers of their options before re-starting mass residential shutoffs on May 1. Because of snow and frozen ground, those shutoffs, which increased significantly last spring, had to be curtailed during the winter months. In all, more than 33,000 customers had their water service cut last year.

The plan described in the meeting minutes, a copy of which was obtained by the ACLU of Michigan, anticipates first targeting three groups: customers who have previous have service shutoff and illegally turned it back on, commercial accounts and customers who use at least 10 times as much water as the average Detroit residential customer.

Once those targets have been hit, [Detroit Chief Operating Officer Gary] Brown told the group, contractors would begin shutting off service to roughly 28,000 residential customers in Detroit who are more than two months behind in payments, or owe more than $150.

"The goal is to change culture regarding responsibility to pay for service," according to the meeting notes.
A familiar name, Bill Nowling, who served as spokesperson for former Detroit Emergency Manager Kevyn Orr, was recently hired in the same capacity for the new regional authority. He told Guyette the number of residential customers potentially facing shut-offs is actually "a little more than 26,000," though it's presently unclear how many are occupied.
Detroit's efforts to shut-off waters, amid the
largest municipal bankruptcy in U.S. history
, drew worldwide attention last year. Protest were held
with as many as 2,000 people
, special rapporteurs for the United Nations
slammed the initiative as a violation of human rights
, and it even drew a
heated hearing before the city's bankruptcy judge
.