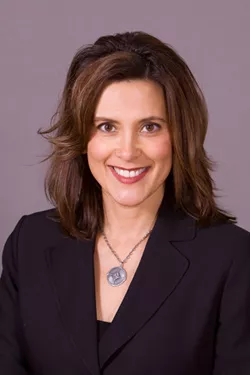 There are two big, defining political endorsements for Democrat gubernatorial candidates in the state of Michigan, political experts tell us. They are those of the United Auto Workers (duh) and the Michigan Education Association.
Yesterday, Democrat candidate for governor Gretchen Whitmer, who's long been viewed as the party
"front runner,"
scooped up support from the latter organization a full eight months before the August primary.
"Without doubt, Whitmer is our strongest candidate to take back the governor's office and we are with her every step of the way," read a statement from MEA President Paula Herbart.
While smaller labor unions have been backing candidates — with most going for Whitmer and the Michigan Nurses Association backing former Detroit health department director, Dr. Abdul El-Sayed — it seemed a bit early for such a significant endorsement from a union that represents some 140,000 school employees.
And perhaps it was. As a political analyst who spoke with the
Free Press
put it, "If the MEA is endorsing this early, it means the push to find somebody to replace Gretchen isn't going anywhere."
A political analyst we spoke with, meanwhile, said the early endorsement may have been intended to send a message to the UAW, which has a faction that does not support Whitmer.
"They've desperately been trying to find someone else to run in the race and they've come up empty,"
Inside Michigan Politics editor and publisher Susan Demas says
. "I think the official line would be that they are concerned about her ability win, but there are a lot of people in the Democratic Party that think gender has something to do it."
(As for former governor Jennifer Granholm's successful 2002 candidacy — Demas noted,
"Granholm didn't run after Hillary Clinton lost in 2016.")

The race has been framed as critical not only for Michigan, but the Democrat Party's momentum nationwide. Michigan, as we all know, unexpectedly went for Trump by a hair. Its governorships, meanwhile, have in recent history been a swinging pendulum: Governor Rick Snyder is a Republican, Granholm was a Democrat, former governor John Engler was a Republican, James Blanchard was a Democrat.
If Democrats can't regain power here, it's unlikely to happen in other critical Midwestern states, Blanchard told
USA Today
for an article published last September. For Michiganders, a Dem loss will likely mean at least four years of Attorney General Bill Schuette, or four years of Lieutenant Governor Brian Calley — a period the opposition has said would amount to
Snyder's "third term."
With the stakes so high, it appears as if at least one group of powerful local Democrats is still fighting to mount a viable alternative to Whitmer. Yesterday, after the MEA announced its endorsement of the former state Senate minority leader,
Bridge Magazine
broke the news that Detroit Mayor Mike Duggan and union leaders, including the president of the UAW, had reached out to U.S. Sen. Gary Peters in a "full court press" to try to get him to run. Democrat operatives in southeast Michigan also apparently approached Congressman Dan Kildee. The magazine reports that both men declined.
So why the nail-biting by some Dems over Whitmer? According to
Bridge
, concerns have centered on her campaign momentum, fundraising and name recognition, particularly in densely populated southeast Michigan.
"The bottom line is, because of polling numbers, Gretchen is (perceived as) not very strong in southeast Michigan, and the fear is if you can't win in Macomb County or Detroit, you can't win," pollster Ed Sarpolus, of Target-Insyght in Lansing, told the magazine.
Approached by
Bridge
after she formally received the MEA's support, Whitmer put a sunny face on things, telling the publication, "We have seen an enormous level of excitement across the state: unprecedented fundraising; volunteer signups... We have broken every record of any campaign at this point in Michigan's history. If there's some sort of conversation going on in an echo chamber, we don't see it on the front line." The campaign says it has raised $3 million and is on track to qualify for $1 million in public financing.
The report puts the hand-wringing into context, comparing the jitters over Whitmer's candidacy to Granholm's. It also looks at what running a candidate with lackluster support could mean for other races on the ballot. Read the full story
here
.