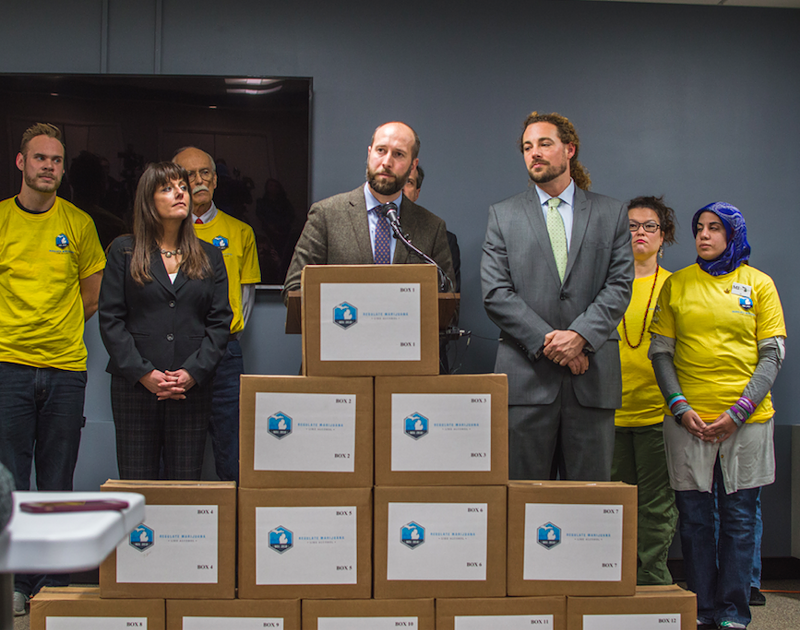 Republican state senators are reportedly mounting an effort to pass a proposed marijuana legalization initiative through the legislature in a move that would allow lawmakers to easily amend the proposal and keep it off the November ballot, where it's expected to draw more left-leaning people to the polls.
According to a report published today in the
Detroit Free Press
, Republican lawmakers would rally support to pass the recreational marijuana proposal by tying it to a cut in the state income tax. The Freep says it spoke with five anonymous sources familiar with the plan.
A specific tax cut reportedly has yet to be set, but the idea is that revenues lost from the cut would be made up with the taxes generated by marijuana legalization. The proposal to legalize recreational pot for people 21 and up includes a 10 percent excise tax and 6 percent sales tax on marijuana products. (Whether that would even raise enough money to offset a significant reduction in the state income tax is unclear — Colorado only pulled in
$76 million
from marijuana taxes and fees in 2014, the first year pot was legal in the state. That number was up to $200 million last year.)
The news comes after we reported last week on the several different ways Republicans in the state legislature
could alter the pot legalization initiative
recently
approved for the ballot
by the Board of State Canvassers. Lansing lawyer and legalization advocate Jeffrey Hank told us then that lawmakers have 40 session days in which they can approve the ballot initiative themselves and make it law. If they pursued that route, he said, all lawmakers would need is a simple majority of 51 percent to make changes.
Sure enough, the Freep reports that the Republican senators' plan would also allow them "to amend the recreational marijuana initiative so it is regulated more like the medical marijuana industry." Under the current medical structure, marijuana licensing is handled by a board appointed by the governor and leaders in the House and Senate. The ballot proposal, which was crafted over the course of months with an eye toward
limiting the influence of big money
on the new industry, would have licensing handled by the state Department of Licensing and Regulatory Affairs.
But the effort by Republican senators may not pose a significant threat to the ballot initiative, as the House does not appear to be on board. Republican House speaker Tom Leonard, who's also running for state attorney general, has reportedly said he's not in favor of legalizing marijuana and doesn't think the Republican caucus will take up the issue.
Stay on top of Detroit news and views. Sign up for our weekly issue newsletter delivered each Wednesday.