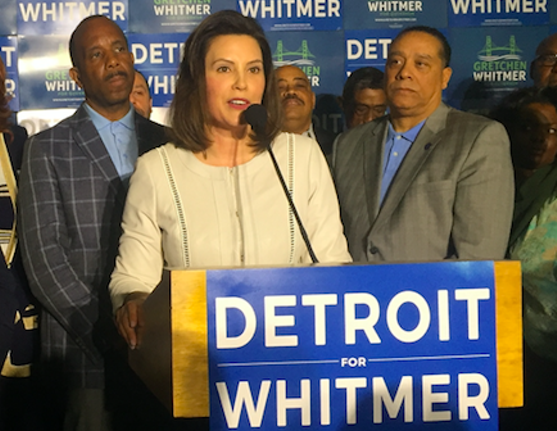 Gretchen Whitmer, the frontrunner in the Democratic primary race for Michigan governor, is reportedly considering Wayne County Sheriff Benny Napoleon as her running mate.
Napoleon tells the
Detroit News
he's among several Democrats who've been recommended as possible nominees for lieutenant governor if Whitmer wins the August primary.
Adding Napoleon to the ticket could mean a big boost for Whitmer in southeast Michigan, where polls reportedly show the East Lansing Democrat experiencing
some weakness
. Napoleon is a lifelong Detroiter who formerly served as the city's police chief and ran for mayor against now-Mayor Mike Duggan in 2013, earning 45 percent of the vote.
Whitmer formally
won Duggan's backing
Wednesday as she opened her campaign office on Livernois near Seven Mile to the public. Afterward, when asked whether she was considering as her running mate any Detroit residents or people with law enforcement experience, she laughed and declined to specify.
The last two gubernatorial races were lost by outstate Democrats who added metro Detroiters to their tickets. In 2010, former Lansing Mayor Virg Bernero and his nominee for lieutenant governor, then-Southfield Mayor Brenda Lawrence, lost to Gov. Rick Snyder by nearly 20 percentage points. In 2014, former U.S. Rep. Mark Schauer from Battle Creek and his nominee for lieutenant governor, Oakland County Clerk Lisa Brown, lost to Snyder by 4 percentage points.
Duggan pointed out Wednesday that low voter turnout in Detroit would be a significant obstacle to getting Whitmer elected.
"The thing that we gotta impress upon [Detroiters] is that your vote is never going to matter more than it does in the governor's race of 2018," he said. "You look at whats happening in the schools in Detroit … you look what's happening on the roads, you know, Lansing matters."