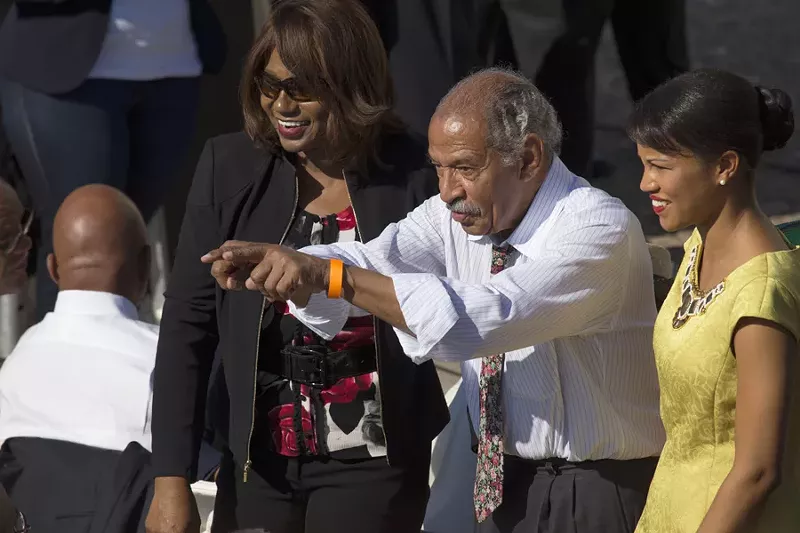 After
initially denying
knowledge about sexual harassment allegations and a cover-up as detailed in a new
BuzzFeed News bombshell report
, Michigan Rep. John Conyers has issued a statement clarifying the matter — somewhat.
In a statement issued by his office Tuesday afternoon, Conyers admitted to the settlement, but also doubled down on his denial.
Of the initial flat-out denial, a spokesperson says Conyers was confused.
The Associated Press
made an unannounced visit to the home of Congressman Conyers this morning," the statement read. "Congressman Conyers was under the impression the reporter was speaking of recent allegations of which he was unaware of and denied."
In his own words, Conyers admits to a settlement, but says it was to avoid lengthly litigation and not as an admission of wrongdoing. The congressman also called on the public to "honor this fundamental principle that all are entitled to due process."
Conyers full statement is below:
"I have long been and continue to be a fierce advocate for equality in the workplace and I fully support the rights of employees who believe they have been harassed or discriminated against to assert claims against their employers. That said, it is important to recognize that the mere making of an allegation does not mean it is true. The process must be fair to both the employee and the accused.

The current media environment is bringing a much-needed focus to the important issue of preventing harassment in workplaces across the country. However, equally important to keep in mind in this particular moment is the principle of due process and that those accused of wrongdoing are presumed innocent unless and until an investigation establishes otherwise. In our country, we strive to honor this fundamental principle that all are entitled to due process.

In this case, I expressly and vehemently denied the allegations made against me, and continue to do so. My office resolved the allegations — with an express denial of liability — in order to save all involved from the rigors of protracted litigation. That should not be lost in the narrative. The resolution was not for millions of dollars, but rather for an amount that equated to a reasonable severance payment.

There are statutory requirements of confidentiality that apply to both the employee and me regarding this matter. To the extent the House determines to look further at these issues, I will fully cooperate with an investigation."