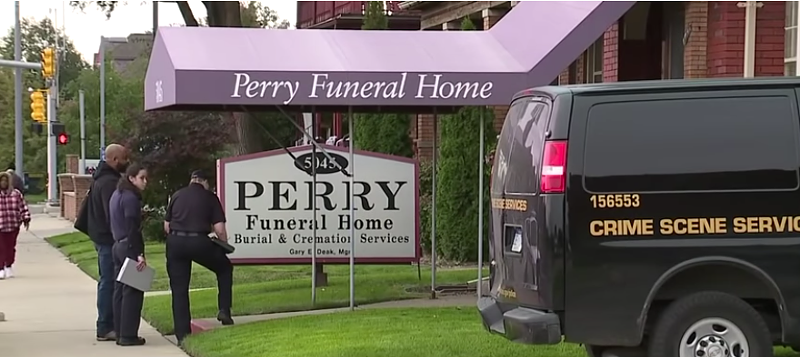 The discovery of 11 dead fetuses at Cantrell Funeral Home has opened up a wider investigation into Detroit funeral homes.
On Friday, Detroit Police Chief James Craig announced at a news conference that the department is conducting a probe into another home that allegedly improperly disposed of fetuses and bodies.
The new investigation started on Friday with a raid on the Perry Funeral Home on Trumbull Avenue near Warren Road where police discovered the remains of 63 fetuses hidden in caches. The
Detroit News
reports that a tip on the second funeral home came from Rachel Brown and Larry Davis, parents of Alyah Davis who died shortly after birth from respiratory failure in 2014.
Attorneys for Brown and Davis in July filed a 72-page lawsuit in Wayne County Circuit Court. The lawsuit claims Perry stored the remains of infants at the Wayne State University School of Mortuary Science for up to three years without notifying or getting consent from the parents. The plaintiffs also allege that Perry falsified death certificates and billed Medicaid for funeral services that never occurred.
The Michigan Department of Licensing and Regulatory Affairs (LARA) released a statement on Friday announcing that it had suspended Perry's license and its director, Gary Deak.
LARA disclosed the conditions
that prompted it to do so:
- Authorities found three unrefrigerated boxes containing the remains of approximately 36 deceased bodies of fetuses or infants, plus a deep freezer containing an unknown number of additional deceased bodies. Some of the bodies had dates of death in 2015.
- Perry failed to certify and file death certificates for the dead bodies of the fetuses and infants within 72 hours of death.
- Perry violated Michigan law that states that funeral homes must properly supervise the final disposition of a dead human body within 60 days.
- Perry failed to secure permits for removal or burial of dead human bodies before interment or disposal. It obtained possession or embalmed the dead human bodies of the fetuses and infants without first being expressly directed or authorized to do so by a relative of the deceased persons or a person entitled to custody.
Detroit police are working with the Michigan State Police, FBI, and Michigan Attorney General's Office. During the press conference, Craig said the department is still asking questions.
"We want to understand the reasons. Was it financial gain and if so, how?" he said.
Stay on top of Detroit news and views. Sign up for our weekly issue newsletter delivered each Wednesday.