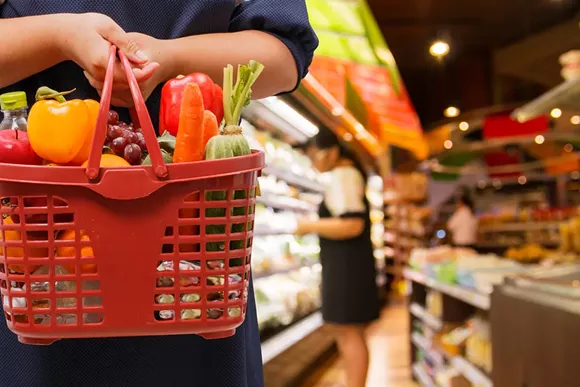 No one likes the grocery store, but pretty soon those giant brick-and-mortar retail establishments might be a thing of the past. Grand Rapids-based Meijer just announced they'll be launching a grocery delivery service with the ability to drop around 55,000 items on your doorstep, sometimes within an hour of your order.
According to a story on
detroitnews.com
, 25 local 24-hour Meijer locations will offer the service starting September 15, but it won't be free. To use the service, one must become a member of the
Shipt
app, which has a $99 annual fee or a $14 monthly fee. Even then, members will have to pay a $7 delivery charge if their order is less than $35.
The service appeals to an older generation that has a hard time getting to the store as well as parents who'd rather avoid having the entire grocery store witness their toddler meltdown over a pack of cookies or a toy. Millennials, who are used to doing all their shopping online anyway, are also a big target for this new option.
The 25 locations are Auburn Hills, 800 Brown; Canton, 45001 Ford; Chesterfield Township, 27255 23 Mile; Clinton, 40455 S. Groesbeck Highway; Commerce, 1703 Haggerty Highway; Detroit, 1301 W. Eight Mile; Detroit, 21431 Grand River Ave.; Fraser, 34835 Utica; Lenox, 36865 26 Mile; Livonia, 13000 Middlebelt; Madison Heights, 1005 E. 13 Mile; Northville, 20401 Haggerty; Rochester Hills, 3175 Rochester; Rochester Hills, 3610 Marketplace Circle; Roseville, 30800 Little Mack; Royal Oak, 5150 Coolidge Highway; Shelby Township, 15055 Hall; Southfield, 28800 Telegraph; Sterling Heights, 36600 Van Dyke; Warren, 29505 Mound; Washington Township, 8401 26 Mile; Waterford, 4200 Highland; Westland, 37201 Warren; White Lake, 6001 Highland; and Wixom, 49900 Grand River.