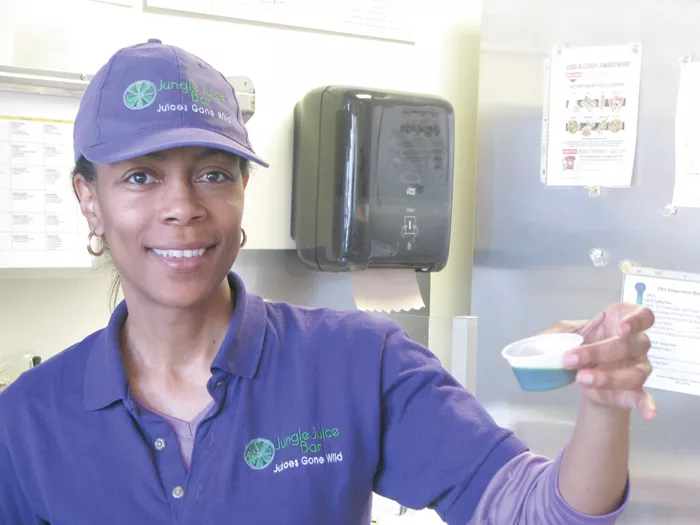 "You should not have to be wealthy to eat healthy," says Regeania Coleman, owner of Jungle Juice Bar in Grosse Pointe Park. JJB is a green beacon on a street shared with Ye Olde Tap Room and Albatross Embroidery. It's an area where the transition between Grosse Pointe and Detroit is a stark walk across Mack Avenue, where visible economic disparities define the region. Coleman, however, finds something that both sides of the street have in common: They're communities that can benefit from better access to affordable health food.
"I think we're located perfectly because you have the Grosse Pointers and the Detroiters," she says. "This is the problem … there aren't enough viable foods within a certain square-mile radius. The impact on our health is that people with bridge cards or food stamps are going to gas stations, drugstores, and places that have junk food."
Coleman is from Detroit, born and raised, so she speaks with an earnestness that demonstrates an intimate understanding of the city's problems. World traveler, health food intellectual, and an active part of a community that she's expressed love for, her presence in many ways is what the area needs.
The JJB concept was conceived after Coleman was laid off from her previous job, and when the entrepreneurial doors opened up for her, she quickly stepped through. "I thought about opening a juice bar because it was in line with my lifestyle," she says, recounting that, in her 20s, she was an active jogger with low iron and energy levels. She turned to juicing to amp up her health after discovering that she was allergic to the vitamins she needed. "The juicer became my oven," she says.
Along with promoting health and the environment, Coleman has embodied a steadfast commitment to the local community; a type of commitment that she thinks could change Detroit if other businesses adopt it. "If every business in Detroit were to adopt their block, and say, "This block — this block right here — is going to be clean, it's going to be beautiful, it's going to be safe," if every business in Detroit did that, we could renovate," she says.
"We could probably turn Detroit around, the crime and blight, within a month. One month. Just by cleaning up the front of a business, beautifying it, and saying, "This area right here is going to be clean, safe, and bright so when the customers come they'll feel safe." … It would be a real makeover."
In addition to a strong community ethic, Coleman also dreams of having the best customer service around. She recounts a work-study trip to Japan that changed her life when she saw how the servers at a club seemed to bend over backward to make her night more convenient and enjoyable. Now she bases her own service model on that, accommodating customers with numerous samples, personalized drink recommendations, and an immaculate environment. Here's a tip: If you're a new face, be sure to tell her you've never been there before.
Her hospitality makes sense when she recalls an experience with a man who eagerly anticipated JJB's grand opening. The man walked in on opening day and dropped a $5 bill on the counter. When Coleman asked him if she could fix him a smoothie, he replied "Nope. I don't want anything. I'll come back and get a drink, but I don't want anything. This is for you, to contribute to your business. Just promise me you'll succeed."
"I was moved to tears," she says. "And then I felt a certain amount of pressure because I thought, 'Failure is not an option.'" Despite the lag of the winter season, Coleman doesn't appear to be worried about the future of the business. "I just want to be part of the group that builds Detroit."
Jungle Juice Bar is located at 14929 Charlevoix St., Grosse Pointe Park; 313-571-3075; jjbmich.com